President Erdoğan unveils Istanbul's new international airport
WORLD
Agencies and A News
Published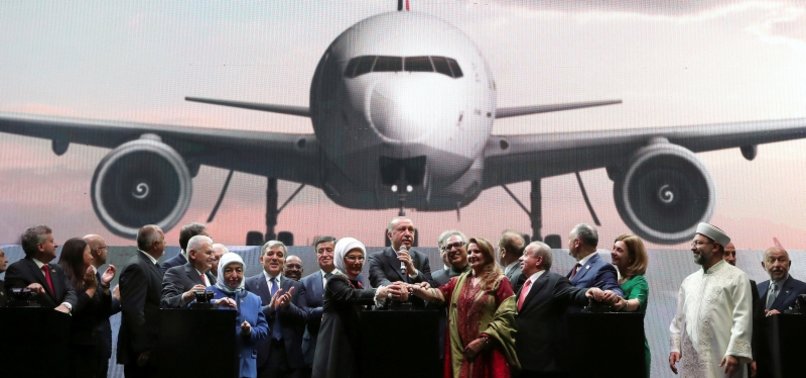 Turkish President Recep Tayyip Erdoğan on Monday unveiled Istanbul's new international airport, which will be the world's largest. The airport, slated to be the world's biggest, started operations on the 95th anniversary of Turkey's establishment as a republic Monday but will initially only serve limited destinations. By the end of the year, Istanbul Airport will replace Atatürk International Airport.
On the 95th anniversary of the founding of the Republic of Turkey, the country has witnessed a historic moment with the opening of Istanbul's new airport.
The grand opening ceremony for the first phase of the airport was held with President Recep Tayyip Erdoğan, Turkish ministers, officials and heads of state from around the world in attendance. As well as boosting Istanbul's position as a global aviation hub, the new airport is expected to make significant contributions to the Turkish economy.
Erdoğan said the name of the new airport was decided to be Istanbul Airport and added that Atatürk airport will maintain its status as an airport but to be closed to commercial flights.
The inauguration ceremony kicked off with Parliament Spaker Binali Yıldırım, who has important contribution in the project as a former prime minister and transport minister, saying it was an honor to mark the 95th anniversary of the Turkish Republic with such a work of art.
Speaking at the opening, Transport Minister Cahit Turhan said one-third of the world's population will have direct access to the new airport.
The ceremony was attended by more than 50 foreign leaders, ministers and high-level officials including Qatar's Emir Sheikh Tamim bin Hamad al-Thani, Serbian President Aleksandar Vucic, Kosovo's President Hashim Thaci, Macedonian President Gjorge Ivanov, Moldovan President Igor Dodon, Pakistan President Arif Alvi, Turkish Cypriot President Mustafa Akıncı, Kyrgyz President Sooronbay Jeenbekov, Sudan's President Omar Hassan Ahmad al-Bashir, Former President of Albania Ilir Meta, Bulgarian PM Boyko Borisov, Slovenian Deputy PM Alenka Bratusek, Georgian FM David Zalkaliani, Iranian FM Cevad Zarif, Chairman of the Council of Ministers of Bosnia and Herzegovina Denis Zvizdić, Governor of the Gagauz Autonomous Republic Irina Vlah.

The yet-unnamed facility, known for now as Istanbul New Airport, will by the end of the year replace the international airport named for Atatürk, currently the main hub of Turkish aviation sector, parts of which are to be transformed into a public park. Sabiha Gökçen Airport on Istanbul's Asian side will remain open.
Hours before what he called a "historic opening," Erdoğan described the project as one of the most "prestigious" in the world and a symbol of Turkey's strength in times of economic attacks.

At the initial phase, five takeoffs and five landings will take place at the airport. Turkey's national flag carrier Turkish Airlines (THY) will hold the first flight to Turkish capital Ankara on Oct. 31. The airline company will fly to Turkish resort town Antalya on Nov.1 and to Izmir on Nov. 2 with first international flight to the Turkish Republic of Northern Cyprus (TRNC) on Nov. 1 and to Azerbaijan on Nov. 8.
It is expected that a daily 2,000 planes will go through the airport by the end of the year to over 350 destinations by over 250 carriers.
Completed within 42 months, the first phase of the airport was built with a cost of 6 billion euros ($7.2 billion) with a public-private partnership (PPP) model by a consortium of Turkey's leading contractors Limak, Kolin, Cengiz, Mapa and Kalyon. The consortium will pay 1.1 billion euros annually for 25 years.
The total investment cost of the giant projects is estimated to stand around 26.1 billion. The first stage will begin operations with two runways – 3,750 and 4,100 meters long, respectively – an air traffic control tower and service buildings. Some 200,000 laborers worked during the construction of the first phase.
The other phases of the airport, which is constructed on an area of 76.5 million square meters, are planned to be completed by 2023. When the construction of all the phases is complete, the airport will have six runways and operate with a capacity for more than 500 planes. The open and closed parking lot of the airport will be able to serve 70,000 automobiles.
Istanbul's new airport will be home to the world's largest duty-free shopping complex. The 53,000 square meter shopping complex will consist of six sections, including luxury stores and bazaar concepts.
By year's end, the new airport will be able to handle up to 90 million passengers annually with a 1.4 million square meter terminal building, ranking in the world's top five. The number will rise to 200 million passengers when all facilities are complete and will become the world's largest airport.
In 2017, the Atlanta airport in the U.S. was the largest airport, with just under 104 million passengers, according to Airport Council International (ACI) figures. Next came Beijing with 95.7 million passengers, Dubai 88.2 million, Tokyo 85.4 million and Los Angeles 84.5 million.
In Europe, London-Heathrow ranked seventh globally with 78 million passengers last year. Paris-Charles de Gaulle came in 10th with 69.4 million, Amsterdam 11th with 68.5 million, Frankfurt 14th at 64.5 million and then Istanbul in 15th position with 64.1 million. The ACI said Turkish air traffic grew 10.9 percent last year, picking up pace in the first half of 2018 to 15.7 percent.
Considering the economic impact of the airport, Istanbul's new airport will provide employment to 225,000 people by 2025. The additional household income to be generated will go up to $4.4 billion and its contribution to the economy will reach around 4.9 percent of the national income (TL 73 billion).
The airport's interiors pay homage to Turkish and Islamic designs and its tulip-shaped air traffic control tower won the 2016 International Architecture Award. It also uses mobile applications and artificial intelligence for customers, is energy efficient and boasts a high-tech security system.
All aviation operations will move to the new airport at the end of December when Istanbul's main international airport, named after Turkey's founder Mustafa Kemal Atatürk, is closed down. Atatürk Airport, which now handles 64 million people a year, will transition for other uses, such as training activities, aviation fairs and civil use. On the Asian side of the city, Sabiha Gökçen Airport, which handled 31 million passengers last year, will remain open.
Turkish airports welcomed nearly 164 million people between January and September this year, while over 31 percent of air passengers used Turkey's busiest airport, Atatürk Airport.