Turkey, Azerbaijan, Georgia reiterate common will to further develop cooperation in various fields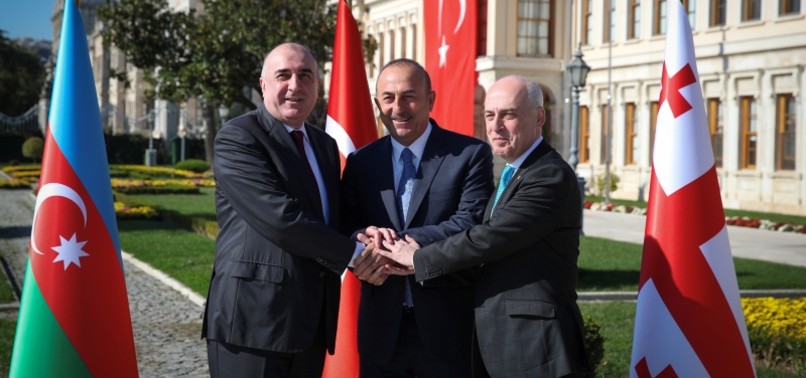 The foreign ministers of Turkey, Azerbaijan and Georgia stressed Monday in Istanbul that they will further increase cooperation between the countries to yield mutual benefits in various fields.
Speaking at a joint press conference with his Azerbaijani counterpart Elmar Mammadyarov and Georgian counterpart David Zalkaliani, Foreign Minister Mevlüt Çavuşoğlu stated: "We are happy that this mechanism functions well and the decisions of the leaders' summit have been successfully implemented."
He underlined that in the meeting, which was the seventh trilateral meeting of foreign ministers of Turkey, Azerbaijan and Georgia, ways to further enhance cooperation in the fields of energy, economy and transportation were discussed.
Çavuşoğlu also stressed that Turkey supports the territorial integrity and sovereignty of Azerbaijan and Georgia.
"We will continue our cooperation with both Georgia and Azerbaijan in order to solve the problems of the two countries in a peaceful manner and in accordance with the international law," Çavuşoğlu said.
Çavuşoğlu also reiterated Ankara's support for Georgia's Euro-Atlantic integration stressing that Turkey was the NATO that backed Georgia's alliance membership the most.
Touching on the joint project between the countries, Çavuşoğlu said that following the last trilateral meeting in Baku, the Trans-Anatolian Natural Gas Pipeline Project (TANAP) was inaugurated on July 12.
"Now after commissioning the Trans-Adriatic Pipeline (TAP) gas from the region will be delivered to European countries. Launching the Baku-Tbilisi-Kars (BTK) railway also contributed to the development of trade between the three countries," he said.
Mammadyarov thanked Turkey for its support to Azerbaijan. Commenting on the joint projects, he underlined that they believe the projects will provide benefits to Turkey, Azerbaijan and Georgia.
The Georgian foreign minister also stressed that the three countries have been involved in significant projects. "In our meetings we evaluated these projects and decided further involvement in concrete projects."
Çavuşoğlu met with Mammadyarov and Zalkaliani in Istanbul on Monday as part of the 7th Foreign Ministers' meeting between the three countries.