Tupac Shakur gold crown ring breaks $1 million auction record in NYC
Published July 28,2023
Subscribe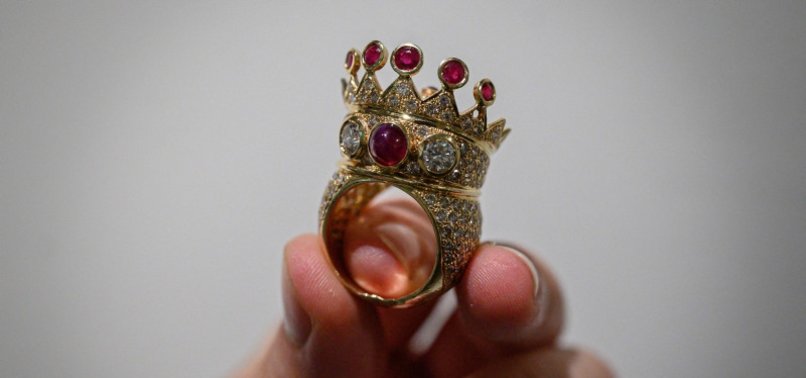 A gold, ruby, and diamond crown ring, designed and worn by the late US rapper Tupac Shakur during his last public appearance in 1996, is displayed during a press preview at Sotheby's in New York City on July 20, 2023. (AFP)
A ring that Tupac Shakur designed and wore during his last public appearance fetched a whopping $1 million at a New York City auction on Tuesday.

The late hip-hop superstar donned the gold, ruby and diamond crown ring during his final public appearance at the MTV Video Music Awards on September 4, 1996. Three days later, he was shot in a drive-by shooting in Las Vegas, and died on September 13, at age 25.

Before the sale, Sotheby's estimated the blinged-out bauble would go for between $200,000 and $300,000 but the winning bid has made the ring "the most valuable hip-hop artifact ever sold."

According to Shakur's godmother and "money manager" Yaasmyn Fula - who put the item up for sale - Tupac was influenced by . The "Me Against The World" rapper read his political manifesto "The Prince" while in prison on sex abuse charges and adopted the persona of "Makaveli."

Crafted with unidentified New York jewelers, the ring - which has a central cabochon ruby, flanked by two pavé-cut diamonds atop a diamond-encrusted gold band - is engraved with "Pac & Dada 1996." At the time, Shakur was dating fashion designer , daughter of producer Quincy Jones.

"This one-of-a-kind, custom ring was meticulously designed by Pac and is among the final products of his boundless creative energy - a unique artifact from a period of time that is a testament to his enduring influence on hip hop," Sotheby's Cassandra Hatton said in a statement.

The new owner of the ring has not been revealed.

Shakur's jewelry is a part of the auction house's third dedicated hip-hop sale, which closed Tuesday after bringing in $1.8 million. This year focused on the 50th anniversary of the music-based culture that grew from its inception in the South Bronx in 1973 to an enduring worldwide phenomenon.

Among the contents featured in the 117 lots offered in the sale were original art, historic studio equipment, exclusive photographs, sneakers and jackets, and other rare artifacts spanning music, art and fashion.