Maduro says Colombia's ex-leader plotting his killing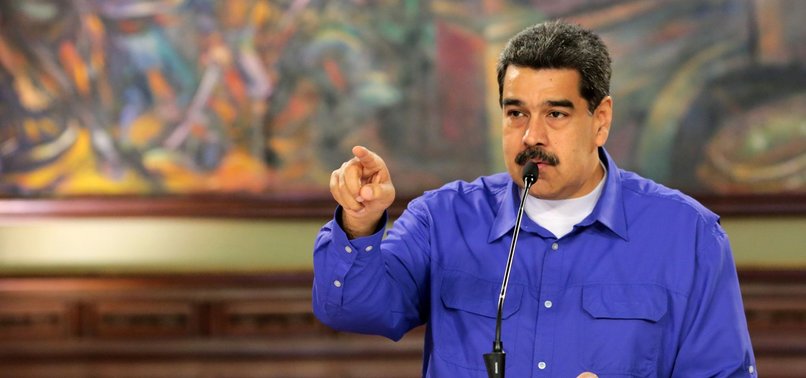 Venezuela's president accused Colombia's former leader of an attempt to assassinate him, local media reported.
A Colombian envoy and a Venezuelan justice were allegedly involved in the assassination plan, according to the Caracas-based teleSur TV network.
"I have learned of a plan directed by Alvaro Uribe Velez with the participation of the Colombian ambassador to the United States, Franciscano Santos, who has discussed with Lester Toledo, a fugitive from Venezuelan justice, to enter Venezuela (with) 32 mercenaries to try to assassinate me and other leaders of the revolution," Nicolas Maduro was quoted as saying Wednesday at the presidential palace in the capital Caracas.
Maduro said he had received intelligence information that indicated Uribe was also in collaboration with Venezuela's ultra-right leaders for the assassination plan.
Venezuela would overcome all "violent and mercenary plans," Maduro stressed.
The claim came days after seven Colombian paramilitaries were arrested by Venezuela on the border in the western state of Tachira, teleSUR reported. The paramilitaries were found with firearms, ammunition, vehicles and communication devices.
Since July 24 alone, the Bolivarian National Armed Forces (FANB) of Venezuela have arrested 49 Colombian paramilitaries in their territory.
Uribe, who ruled Colombia from 2002 to 2010, left his senate seat in 2018 to undergo a bribery and fraud investigation. He faced charges of making false accusations and witness tampering. Uribe has long been accused of paramilitary involvement but he denies all links.
Colombia's current President Ivan Duque, who is known following the footsteps of Uribe, threw his support behind Venezuelan opposition leader Juan Guaido and participated in the failed U.S. aid mission to bring truckloads of supplies from Cucuta, Colombia to Venezuela.
Political unrest has been ongoing in Venezuela between Maduro and Juan Guaido since Jan. 10.
Guaido in January proclaimed himself the rightful president of Venezuela, dismissing Maduro's 2018 re-election as a fraud, a move recognized by more than 50 countries, including the U.S.
But Venezuelan state institutions as well as the military have been putting their weight behind Maduro.