Turkish group gives Qurans to 1,200 Ethiopian children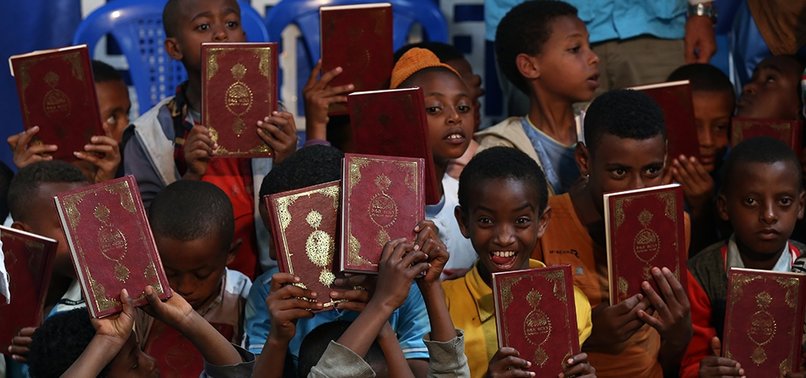 The charity arm of Turkey's top religious authority or Diyanet has given out Qurans to thousands of Ethiopian schoolchildren studying the Muslim holy book.
The Turkiye Diyanet Foundation (TDV) financed the printing of 15,000 copies in collaboration with Addis Ababa University for distribution among mosques and Quranic schools in Ethiopia.

Cemil Alici, religious services advisor at the Turkish Embassy in the capital Addis Ababa, together with other Diyanet officials made the donation.

Some 1,200 children taking Quran lessons at the Omar Ibn Nul Hattabt kindergarten received copies of the book.

The Quran being handed out has been translated into Amharic, the official working language in Ethiopia, a country of more than 100 million people, 34% of them Muslims.

After distribution of the Qurans, Sheikh Mohammed Awol Rejja, the school's principal, told Anadolu Agency that he felt proud and privileged to see his students receive such a worthy donation.

"The Amharic version of the Quran will help Ethiopian students to not only recite but understand the contents," he said.

This May, the group distributed 1,200 copies of the Amharic Quran at the Grand Anwar Mosque in Addis Ababa.