Turkey's presidential aide meets US envoy for Syria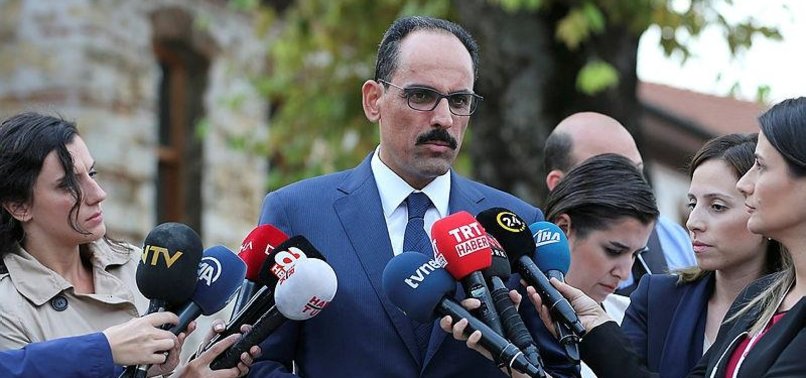 Turkey's presidential spokesman on Friday met the U.S. envoy for Syria in capital Ankara, according to presidential sources.
Ibrahim Kalın and James Jeffrey discussed joint efforts to implement Syria's Manbij roadmap in other areas east of Euphrates.
Both sides agreed that the Manbij roadmap should be implemented promptly, while noting the importance of achieving concrete progress by end of the year.
During the meeting, a consensus was reached to accelerate the political process and establish the basis for a permanent solution in Syria.
Kalın and Jeffrey stressed the success of quadrilateral summit on Syria held in Istanbul in October and agreed on holding such meetings on a regular basis.
On Oct.27, Istanbul hosted the first ever quadrilateral summit on Syria. Turkish, Russian, French and German leaders examined the situation in the country and offered a plan for the crisis resolution.
The council stressed that the issues agreed on at the summit would contribute to peace in Syria and the region, as well as provide a permanent cease-fire by demilitarization in the northwestern province of Idlib.
Kalın also expressed Turkey's clear stance on PYD/YPG issue and said his country will not permit the existence of any terrorist elements within the borders of the country.
The U.S. has claimed the YPG/PKK is an "ally" in the fight against Daesh, over Turkey's objections that you cannot use one terrorist group to fight another. Turkey has repeatedly cited evidence that the YPG is no different from the PKK.
The YPG is the Syrian offshoot of the PKK, a terrorist group recognized by Turkey, the U.S., and EU, which in its 30-year terror campaign has taken some 40,000 lives.