France seeking way out of nationwide Yellow Vests protests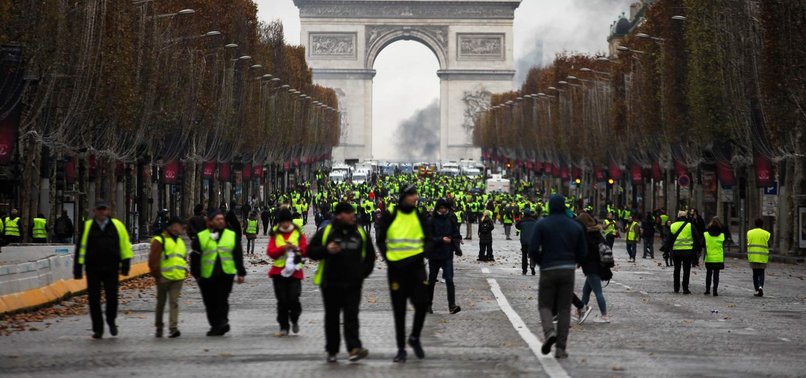 France's Yellow Vest protesters have slammed President Emmanuel Macron for allegedly siding with the wealthy too often. Will Macron taking back the unpopular petrol tax be enought to quell growing unrest? In a survey released Thursday by polling firm Elabe has showed that only 13 per cent of those questioned feel that Macron's reforms called for "fair efforts according to everyone's ability , and also that 78 percent citizens think Macron's measures on the issue were unsatisfactory.
France is seeking a way out of the Yellow Vests movement which started in mid-November forcing the government to scrap plans to raise fuel prices.
The week-long protests which saw incidents of plunder and arson have plummeted approval ratings of President Emmanuel Macron.
A poll by French firm Elabe shows that 78 percent citizens think Macron's measures on the issue were unsatisfactory.
Another survey showed that during the protests only 18 percent of French citizens were supporting Macron, compared to 21 percent the previous month.
Thierry Paul Valette, Paris coordinator of the Yellow Vests, told Anadolu Agency on Friday that the suspension of fuel tax increases for 2019 does not meet all of their demands.
Among them were a raise in minimum wage, reduction in retirement age, and an overhaul of the tax system.
The protests also pointed to a wider problem within the French government.
Prime Minister Edouard Philippe on midday of Thursday announced in the Senate that France may cancel the proposed tax raises for 2019. By the evening, Macron announced the tax raise had been canceled -- signalling to a communication gap between the two leaders.
"Yellow Vests: Macron-Philippe tandem in crisis," Europe 1 radio said in its headlines.
Protests have been planned across France this weekend.
Early Saturday, the Yellow Vests will gather at famous Champs-Elysees Avenue. A group of protesters will meet at Place de la Bastille, a famous Parisian square.
Some 89,000 troops will be on duty, including 8,000 in Paris.
French Interior Minister Christophe Castaner has requested Yellow Vests not to hold fresh protests. But Paris Mayor Anne Hidalgo is backing Saturday's protests.
A syndicate of police, Vigi, will go on an indefinite strike to support the Yellow Vests, the union said on Twitter on Thursday.
The demonstrators, who generally live in rural areas due to high rents in the cities, have to commute long distances to come to work in the cities.
At least three people have died during the riots while 1,043 others have been injured, including 222 members of the security forces. As many as 1,424 people have been arrested.
Fuel prices in France have risen more than 20 percent this year.