Trump assails Russia probe, taps new attorney general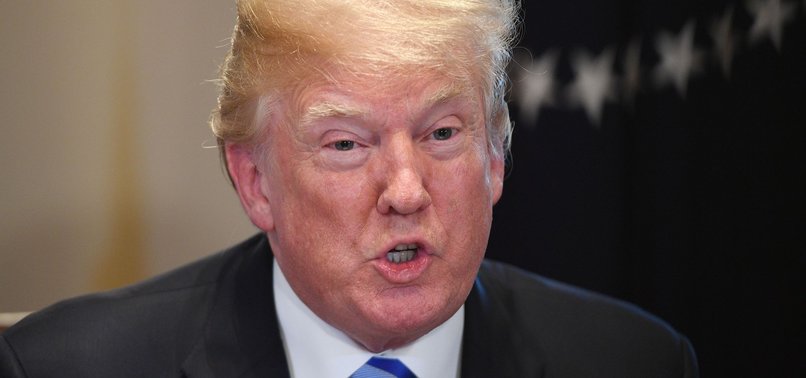 President Donald Trump on Friday tapped William Barr, a conservative lawyer who was attorney general in the administration of the late George H.W. Bush, to lead the US Department of Justice. Barr would succeed Jeff Sessions, who Trump sacked last month amid rising pressure on the White House from the Russia collusion investigation of Special Counsel Robert Mueller. "Bill Barr will be nominated for the United States Attorney General position. I think he will serve with great distinction," Trump told reporters.
President Donald Trump unleashed a blistering new attack Friday on Robert Mueller, as he tapped a veteran conservative lawyer to head the US Justice Department -- and assume oversight of the special counsel's Russia investigation as it inches ever closer to the White House.
The latest of Trump's increasingly frequent outbursts against the probe came ahead of crucial court filings that could reinforce suspicions the president's campaign colluded with a Russian effort to get him elected in 2016, or that Trump himself sought to obstruct justice -- two of Mueller's lines of inquiry.
Trump fired off a feverish volley of early morning tweets rejecting the probe as a "total witch hunt," accusing Mueller of "big time conflicts of interest" and alleging the prosecutor coerced false testimony from witnesses.
With speculation swirling that Trump's chief of staff John Kelly may be on his way out, the president also lashed out at a gallery of figures from the campaign of his former rival Hillary Clinton, to former FBI director James Comey, to his own deputy attorney general who he said was "totally conflicted."
The president also vowed his lawyers would produce a "major Counter Report" to rebut Mueller's findings, as and when he delivers them.
"Already 87 pages done, but obviously cannot complete until we see the final Witch Hunt Report," he fumed. "This should never again be allowed to happen to a future President of the United States!"
- NEW ATTORNEY GENERAL -
Shortly afterwards, speaking to reporters on the South Lawn of the White House, Trump announced his intention to nominate William Barr as his new attorney general -- succeeding Jeff Sessions, who he sacked last month.
Sessions had angered the president by recusing himself from overseeing the Mueller probe because of his own contacts with Russian officials.
His recusal had effectively created insulation between Mueller and the White House -- a barrier that would no longer exist if Barr is approved by the Senate, probably next month.
Barr -- who previously served as attorney general under late George H.W. Bush -- was seen in Washington as something of a consensus candidate for the highly sensitive post.
He does however have a record of endorsing strong executive powers, which could come into play if Mueller sought to compel the president to testify.
And while Barr initially endorsed Mueller's naming to lead the Russia investigation, he subsequently voiced concerns that his team appeared too heavily Democratic, citing the fact that a number of its members had donated to the party.
- POTENTIALLY EXPLOSIVE FILINGS -
The president's attack on Mueller came as Washington was braced for potentially explosive new developments in the probe, related to two pivotal figures: Trump's former campaign chairman Paul Manafort and his ex-lawyer Michael Cohen.
Accusing him of lying to investigators, Mueller last month cancelled a cooperation deal with Manafort, who has already been convicted on multiple charges of money laundering, financial and tax fraud and witness tampering.
A filing in the Manafort case is to lay out the newest charges against the veteran Republican consultant, which could shed new light on how other members of Trump's inner circle may have been involved in his activities.
Meanwhile in New York, federal prosecutors are to file a sentencing recommendation for Cohen that might offer details of what he has told them about the financial activities and Russian contacts of the Trump family.
In recent weeks, filings in the Mueller probe have suggested the White House knew Cohen planned to lie to Congress about his contacts with Russians.
They also suggest Trump and his family were in the loop on discussions with the Russians on a Moscow project, even after the real estate tycoon had secured the Republican presidential nomination in mid-2016.
A sentencing memorandum last Friday for former Trump national security advisor Michael Flynn revealed that Mueller's prosecutors are investigating top members of Trump's presidential transition team, and that the Justice Department might have two other separate probes ongoing into Trump campaign members.
Separately on Friday, another key figure in the investigation -- Trump nemesis Comey -- was testifying behind closed doors in the House Judiciary Committee.
Trump fired Comey last year, angry over his refusal to reel back the Russia investigation -- an event that led Mueller to probe Trump over possible obstruction of justice.