'Turkey hosted 32M tourists in 2018'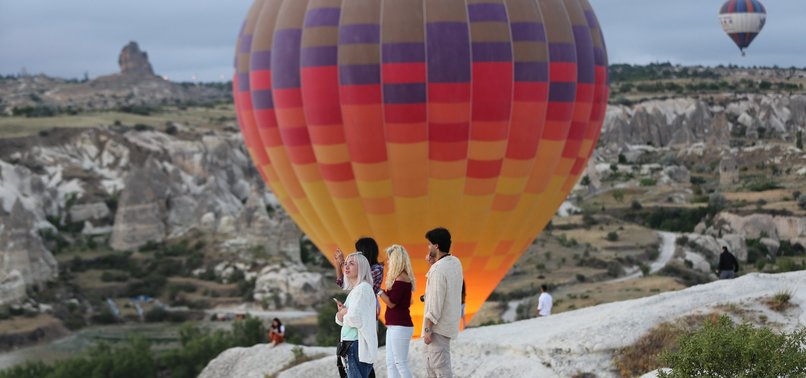 Turkey has hosted around 32 million foreign tourists in the first three quarters of 2018 with a 23 percent increase, said the culture and tourism minister on Wednesday.
"It looks like we will pass 40 million [tourists] and break Turkey's record," Mehmet Nuri Ersoy told Anadolu Agency's Editor's Desk.
Noting that there was an increase in the number of tourists, Ersoy said the tourism sector has experienced a rapid recovery.
Ersoy said apart from the common tourists enjoying the "sea, sand, sun", tourists interested in culture also started to visit Turkey.
He said the country will increase both service standards and investments in order to attract more tourists that have the potential to accommodate for longer durations in Turkey.
He said as part of a protocol with the national flag carrier Turkish Airlines (THY), scheduled flights were going to start in 14 countries and 17 destinations as of April.
Destinations included the U.K., Germany, Russia, Ukraine, Saudi Arabia, Israel, Algeria, Kuwait, as well as the Turkish coastal cities or districts of Antalya, Dalaman, Bodrum and Izmir, he said.
Ersoy said the flights were going to start with 850,000 seats via THY, and their aim was to almost double the number each year.
Stating the capacity of tourism had increased, Ersoy added that the objectives of the country's 2023 centennial were expected to be met in 2019 and the latest in 2020.
The year 2023 marks the centenary of the Republic of Turkey and the country's 2023 Vision sets specific targets for improvements in the areas of economic activity, energy, healthcare, education, and transport.
Ersoy said new investment areas were planned with an aim to keep touristic facilities, such as golf courses and game fields, open year-round with the necessary arrangements for cold weather conditions.
He also praised Turkey's newly opened Istanbul Airport, which will be one of the world's largest airports once completed, and said it was a key investment to boost tourism in the country.
Ersoy also said the long efforts for the repatriation of missing pieces of a Gypsy Girl mosaic -- located in southeastern Gaziantep province -- were close to an end.
The 12 Roman-era mosaics, which depict extinct birds and mythological characters, are currently held by Bowling Green State University in Ohio.
"As of Nov. 26, it will be brought to Gaziantep from [the U.S.'s] Chicago on a THY plane," he said.
Ersoy said 4,319 historical artifacts had been repatriated to Turkey from abroad in 2003-2018.
He recalled Turkey retrieving ancient Heracles sarcophagus from Switzerland as well as a golden crown from Scotland.