Trump says mobilizing US military towards southern border with Mexico
WORLD
Compiled from wire services
Published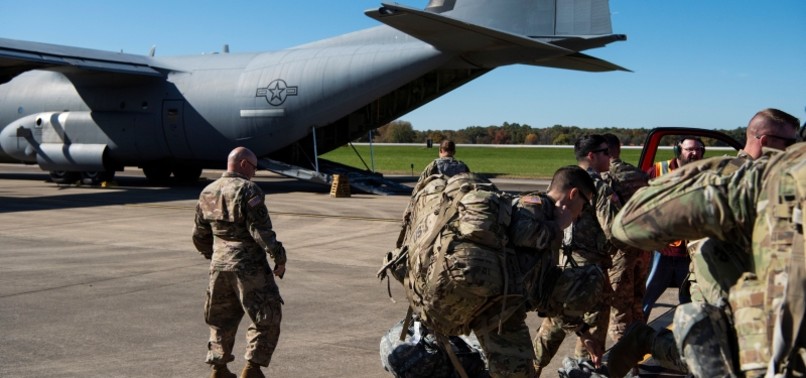 President Donald Trump said he was mobilizing the U.S. military towards the southern border as he kept up the pressure on Mexico Wednesday to halt groups of migrants heading to the American border.
Trump has sought to put immigration front and center ahead of next week's hotly-contested midterm elections, ordering thousands of troops to the southern border and threatening to end automatic citizenship for U.S.-born children of immigrants.
"Our military is being mobilized at the Southern Border. Many more troops coming. We will NOT let these Caravans, which are also made up of some very bad thugs and gang members, into the U.S. Our Border is sacred, must come in legally. TURN AROUND!," Trump tweeted.
Trump had previously thanked Mexico for deploying anti-riot forces to the country's southern border, and White House spokeswoman Sarah Sanders said on Fox News Wednesday that "Mexico has stepped up in an unprecedented way."
The more than 5,200 active-duty troops being sent by President Donald Trump to the U.S.-Mexico border will be limited in what they can do under a federal law that restricts the military from engaging in law enforcement on American soil.
That means the troops will not be allowed to detain immigrants, seize drugs from smugglers or have any direct involvement in stopping a migrant caravan that is still about 1,000 miles (1,600 kilometers) from the nearest border crossing.
Instead, their role will largely mirror that of the existing National Guard troops — about 2,000 in all — deployed to the border over the past six months, including providing helicopter support for border missions, installing concrete barriers and repairing and maintaining vehicles. The new troops will include military police, combat engineers and helicopter companies equipped with advanced technology to help detect people at night.
R. Gil Kerlikowske, Customs and Border Protection commissioner from 2014 to 2017, said the military cannot stop asylum seekers who show up at border crossings to seek protection, and that Border Patrol agents have had no trouble apprehending people who cross illegally.
"I see it as a political stunt and a waste of military resources and waste of tax dollars," said Kerlikowske, who was at the helm during a major surge of Central Americans migrants in 2014. "To use active-duty military and put them in that role, I think is a huge mistake. I see it as nothing more than pandering to the midterm elections by the president."
Traveling mostly on foot, the caravan of some 4,000 migrants and a much smaller group of hundreds more are still weeks, if not months, before reaching the U.S. border. Thousands have already dropped out, applying for refugee status in Mexico or taking the Mexican government up on free bus rides back home, and the group is likely to dwindle even more during the arduous journey ahead.
Meanwhile, the Pentagon has identified about 7,000 troops that could be deployed to the border with Mexico if needed, a U.S. official told Reuters on Wednesday.
The official, speaking on condition of anonymity, said the number was an initial estimate and could change.
"The total number of troops deployed will change each day as military forces flow into the operating area, but initial estimates indicate the Department of Defense has identified approximately 7,000 troops to support, if required, Operation Faithful Patriot," the official said.
The official said about 2,000 of the 7,000 would be on standby in case they were required.
In another move likely to appeal to his right-wing base ahead of the upcoming vote, Trump has said he plans to scrap by executive order a constitutional guarantee to citizenship for persons born on U.S. soil, with few exceptions.
He has criticized the guarantee, which is enshrined in the 14th Amendment of the U.S. Constitution, for allowing children of illegal immigrants to become citizens.
Trump's citizenship proposal would inevitably spark a long-shot legal battle over whether the president can alter the long-accepted understanding that the 14th Amendment grants citizenship to any child born on U.S. soil, regardless of his parents' immigration status.
Omar Jadwat, director of the Immigrants' Rights Project at the American Civil Liberties Union in New York, said the Constitution is very clear.
"If you are born in the United States, you're a citizen," he said. He called it "outrageous that the president can think he can override constitutional guarantees by issuing an executive order.