Golden Globes winners announced as Hollywood stars declare war on sexual misconduct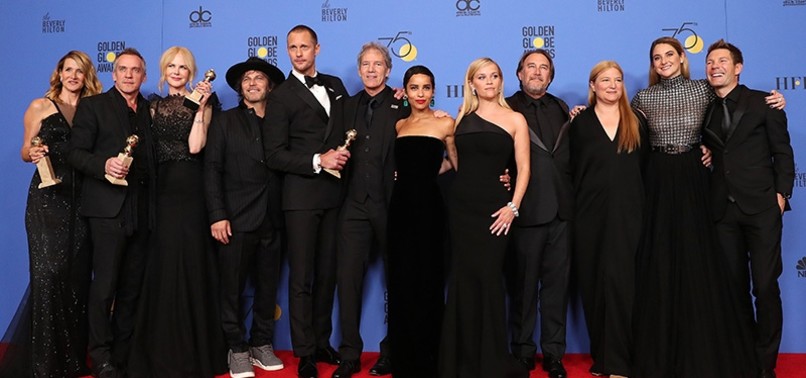 The movie "Three Billboards Outside Ebbing, Missouri" was the big winner Sunday at the Golden Globe awards ceremony as Hollywood women dressed in black and raised their voices against sexual harassment and abuse.
The movie won the top prize for best drama and two of its stars, Frances McDormand and Sam Rockwell, were honored for their roles - McDormand as best actress in a drama and Rockwell as best supporting actor in a drama.
In the film, directed by Martin McDonagh, lead character Mildred Hayes, played by McDormand, takes on a revered police chief after months pass without a culprit in her daughter's murder case.
It edged out other nominees in the best motion picture drama category "Call Me by Your Name," "Dunkirk," "The Post" and "The Shape of Water."
The other top honor went to "Lady Bird" by director Greta Gerwig, which captured the Golden Globe for best comedy or musical. The film, which Gerwig also wrote, is about an artistically inclined 17-year-old in her final year at a California high school.
Saoirse Ronan, who plays the role of Lady Bird, won the best actress in a musical or comedy motion picture. The film beat out fellow nominees "Get Out," "The Disaster Artist," "The Greatest Showman" and "I, Tonya."
James Franco won the best actor in a comedy or musical motion picture for his role in "The Disaster Artist," and German drama "In the Fade" won best foreign film.
The other top movie acting award went to Gary Oldman, who won the best actor in a motion picture drama for the "Darkest Hour." Oldman plays Winston Churchill during the early days of World War II shortly after he became Britain's prime minister.
In the television categories, programs centered on women's lives came away the big winners: "The Handmaid's Tale" won best television series drama, "Big Little Lies" won best limited series or made for television movie and "The Marvelous Mrs. Maisel" won best television series comedy or musical.
Television talk show host and media mogul Oprah Winfrey captured the moment when she paid tribute to those who have been "strong enough and empowered enough to speak up and tell their personal stories" and lamented a culture "broken by brutally powerful men."
Winfrey delivered an impassioned message as she accepted the Cecil B DeMille Award saying for too long women have not been heard or feared speaking the truth to those men. "Their time is up," Winfrey said.
The night began with a sea of black on the red carpet as actresses abandoned colorful, showy gowns to make a statement.
Actress Reese Witherspoon, one of the key players in the anti-sexual harassment coalition Time's Up Now, which encouraged the fashion "blackout," said the black dresses showed solidarity following a "difficult year" in Hollywood.
"A lot has come out of the darkness and into the light," she said. "I think there was a collective feeling that it wouldn't be business as usual."
Echoing other women who spoke during the ceremony, she said the entertainment industry is "privileged to be here," while a lot of people in other industries don't get an opportunity to be heard.
Time's Up Now was founded by women working in film, television and theater in response to last year's revelations of widespread sexual harassment and abuse in the industry.
The scandal that touched off an avalanche of accusations outlined alleged serial sexual harassment and assault by movie producer Harvey Weinstein, whose career came to a crashing end. Those of numerous executives in the U.S. news and entertainment industries followed after similar accusations were made against them.
In his opening monologue, Seth Meyers made light of his role as the host of the first awards show since sexual harassment and abuse scandals rocked Hollywood, comparing himself to "the first dog they shot into outer space."
Meyers addressed the scandal from the top, taking jabs at the conspicuously absent Weinstein and Kevin Spacey, who also faced accusations of harassment.
The Golden Globes are awarded annually by the Hollywood Foreign Press Association. The votes of fewer than 100 people, mostly foreign film critics determine the award winners. They are closely watched because they have often tipped Oscar winners.