Balıkesir eyes top 10 in Turkish economy with key transport projects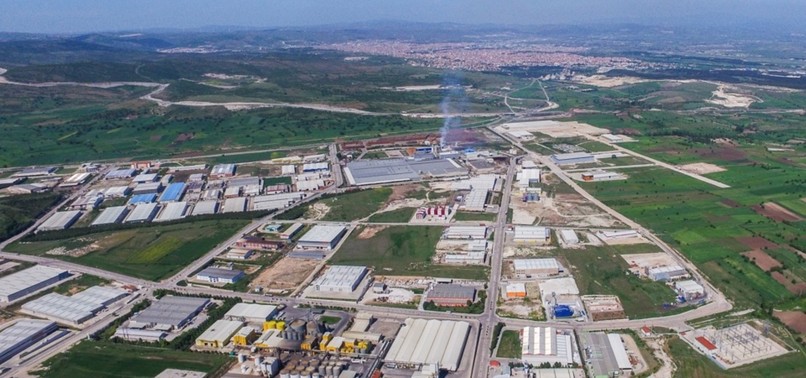 Located at a crossroads in western Turkey, Balıkesir aims to become one of the top 10 provinces driving the Turkish economy using its strategic location and untapped potential
Last week, columnists and correspondents from various publications of the Turkuvaz Media Group visited the western province of Balıkesir for the Province Meetings event organized by Daily Sabah's sister publication, the Sabah newspaper. This series of events aimed to bring journalists and local authorities together to take a glimpse at the local economic conditions, ongoing projects and cultural and historic features of Turkey's provinces, along with discussions to draw their economic and sociocultural outlook to determine the steps to be taken in the future. Warmly welcomed by the Balıkesir Metropolitan Municipality, our group was able to get to know Balıkesir better while enjoying the local tastes and seeing its landmarks.
The province has a very balanced and diversified outlook in every sense, which allows for a promising and sustainable future. Agriculture, industry and tourism have equal weight in Balıkesir's economy, which is Turkey's 16th biggest in terms of provinces. It is the 11th largest province in terms of area, including 20 districts. Its 1.2 million population is the 17th largest in Turkey and the province enjoys almost an equal distribution between its urban and rural and/or semi-rural population.
Balıkesir is located on a Y-shaped economic corridor that connects northwestern Turkey, or eastern Thrace, with Turkish economic powerhouses Istanbul, Bursa and Kocaeli in the Marmara region to its northeast, and İzmir and Manisa to its south in the Aegean region. The main state highway connecting Istanbul with İzmir crosses Balıkesir, serving as the lifeline to the province's economy. A new highway, crossing the Gulf of İzmit further northeast through the Osmangazi Bridge inaugurated in 2016, is currently under construction and expected to be fully in service by 2019.
The highway will cut the travel time between Turkey's largest and third largest cities by half, allowing motorists to reach Istanbul from Balıkesir in two hours and İzmir in one-and-a-half hours. The construction of another highway, which will start from Balıkesir and cross the Dardanelles via the 1915 Çanakkale Bridge, was recently launched in March 2017. The project including the world's longest suspension bridge is expected to be completed by 2023, the centennial of the Republic of Turkey, a date frequently mentioned by President Recep Tayyip Erdoğan for Turkey's ambitious economic goals.
Despite the local elections in 2019, Balıkesir Metropolitan Mayor Zekai Kafaoğlu, who assumed the post in November 2017 amid the ruling Justice and Development Party's (AK Party) rejuvenation bid, also has 2023 in his sights and aims to make Balıkesir the 10th biggest provincial economy by this date, in line with the provincial code, which is 10. "Turkey is the 16th biggest economy in the world, and aims to become the 10th biggest economy by 2023. Balıkesir is ranked 16th inside Turkey, and aims for the 10th position. Thus, Turkey's and Balıkesir's goals overlap," Kafaoğlu said.
He notes that the province has road, railroad, sea and air infrastructure, and a giant seaport is under construction in Çandarlı in İzmir's Dikili district, which would serve as a major trade hub for the northern Aegean. "When a businessperson decides to invest and manufacture in Balıkesir, he/she can easily reach anywhere in the world," he said. Kafaoğlu notes that the giant military jet base near the city center will soon open for civilian commercial flights, becoming the second airport in the province after the Edremit Koca Seyit Airport.
In addition highways, Balıkesir also serves as the crossroads for railways. The line connecting İzmir with Bandırma, a sizeable town of Balıkesir on the coast of Marmara with a busy seaport, crosses from the city, meeting with the line stretching to Kütahya, Eskişehir and Ankara to Balıkesir's east. The city has two organized industrial zones (OIZ) with good railway connections. Kafaoğlu states that Balıkesir is increasingly becoming an alternative for companies relocating from Istanbul for various reasons including high costs, lack of space, over concentration or a general trend in the city over the last decade shifting from manufacturing to services, while Bursa and Kocaeli also experience similar conditions to a lesser extent.
"The first OIZ is full now, and we are adding a 7,500-square-meter additional area. The second OIZ was also launched. An OIZ specialized in heavy metal in Bandırma and an OIZ specialized in food in Altınova were also launched. Another specialized OIZ for olives is also being established in Edremit. We are also planning to establish a specialized OIZ on healthy food and introduce halal food in this regard, because it has a rapidly growing market in the world. We have serious works with the Turkish Standards Institution [TSE] for certification. We aim to establish these OIZ's without wasting our agricultural land," Kafaoğlu said.
The mayor's emphasis on preserving agricultural land is important since Balıkesir, along with neighboring Çanakkale, is of vital importance for feeding northwestern Turkey that houses nearly one-third of Turkey's population. Both provinces are the closest and thus the most economic and sustainable options for cities like Istanbul, Bursa and Kocaeli to provide meat, fruits and vegetables. Specifically, Balıkesir is the leading province of Turkey for dairy products and related industries, whereas its Aegean coastline is famous for its trademark olive oil, especially in the resort town of Ayvalık.
The region is famous for its clean air and low humidity, marking a perfect combination for olive groves with an estimated 10 million trees around the Gulf of Edremit. However, these features, along with its cool sea and unique vegetation especially on the Ida (Kaz) Mountains, also attract millions of tourists to the gulf area every year and the population increases by more than tenfold in the summer, reaching 3 million. This fluctuating population, mainly spending their vacation in their summerhouses, puts a significant amount of pressure to the local ecosystem in terms of pollution and the use of resources, while straining government and municipal services. Olive groves, which are usually located between the beaches and foothills of the mountains, are particularly affected by the seasonal boom and construction in the area.