Trump says he may order military to stop anti-police protests
WORLD
Agencies and A News
Published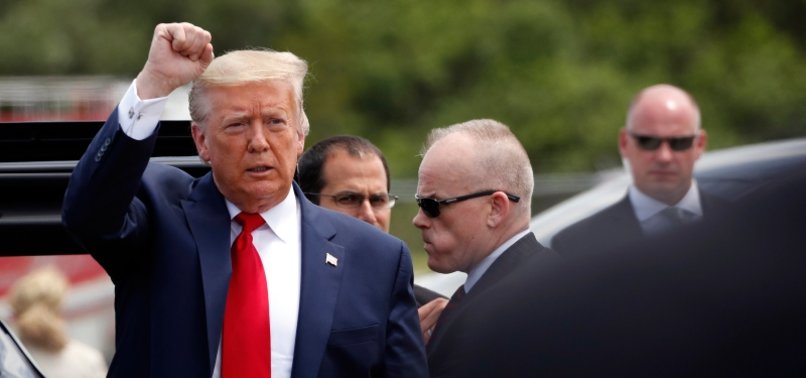 US President Donald Trump blames nationwide unrest on 'radical left' protesters and is offering military assistance to handle the unrest in Minneapolis. "We have our military ready, willing and able. We can have our military there very quickly," Trump said before departing for Florida.
U.S. President Donald Trump said on Saturday that states and cities must get "much tougher" on anti-police protests or the federal government will step in, including by using the military and making arrests.
"Liberal Governors and Mayors must get MUCH tougher or the Federal Government will step in and do what has to be done, and that includes using the unlimited power of our Military and many arrests," he said in a tweet.

PENTAGON READY TO SEND TROOPS TO MINNEAPOLIS IF STATE ASKS
The Pentagon said Saturday it was ready to provide military help to authorities scrambling to contain unrest in Minneapolis, where George Floyd's death has sparked widespread protests, but Gov. Tim Walz has not requested federal troops.
Jonathan Rath Hoffman, the chief Pentagon spokesman, said several military units have been placed on higher alert "as a prudent planning measure" in case Walz asks for help. Hoffman did not identify the units, but other officials said they are mainly military police. Hoffman said these are units normally on 48-hour recall to support state authorities in the event of crises like natural disasters. They are now on four-hour alert, Hoffman said.
Defense officials said there was no intent by the Pentagon to deploy any federal forces to Minnesota unless Walz asked for help. If he did make such a request, federal units such as military police could provide logistical and other kinds of support to the Minnesota National Guard or state law enforcement, but would not get directly involved in law enforcement under current plans, the officials said. They were not authorized to discuss the planning publicly and spoke on condition of anonymity.

Hoffman said Defense Secretary Mark Esper and Gen. Mark Milley, chairman of the Joint Chiefs of Staff, had spoken to Walz twice in the past 24 hours and told him the Pentagon was prepared to help if needed.
DC MAYOR CALLS TRUMPS THREATENING TWEETS 'GROSS'
Washington D.C. Mayor Muriel Bowser lashed out at President Donald for his tweets criticizing her and Washington's Metropolitan Police Department after protests near the White House on Friday night.
Trump warned in a tweet Saturday that the Secret Service was ready to unleash "the most vicious dogs and the most ominous weapons I have ever seen" if protesters had managed to breach the security lines.
Bowser called Trump's remark's "gross," saying the reference to attack dogs conjures up with the worst memories of the nation's fight against segregation.

She says, "I call upon our city and our nation to exercise restraint, great restraint even as the president tries to divide us. I feel like these comments are an attack on humanity, an attack on black America, and they make my city less safe."
Bowser say the MPD stood ready to coordinate with the Secret Service if the protests continue Saturday night.
She says people are desperate for change and "leaders who recognize this pain," instead of "the glorification of violence against American citizens. What used to be heard in dog whistles, we now hear from a bullhorn."