World can't let India get away on Kashmir: Pakistani envoy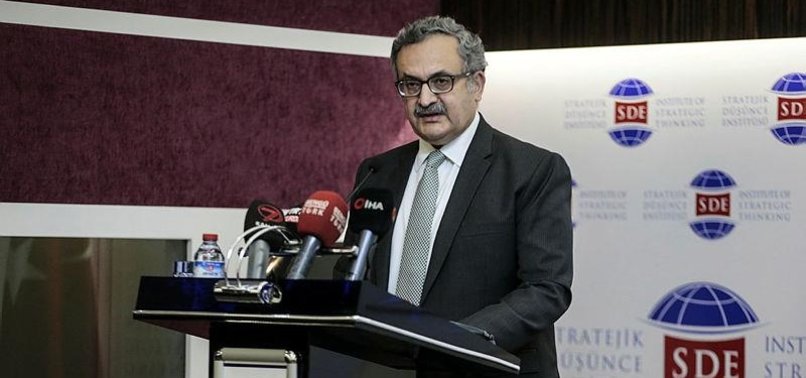 Jammu and Kashmir is facing "most serious rights and humanitarian crisis" perpetrated by India, said Pakistan's envoy to Turkey on Thursday.
"And the world cannot let India get away without facing consequences for it," Muhammad Syrus Sajjad Qazi said at a seminar on Jammu and Kashmir dispute, organized by by Ankara-based Institute of Strategic Thinking.
Qazi said that it has been a month that "Indian-occupied Jammu and Kashmir has been cut off from rest of the world".
"A virtual blockade has been imposed [on Kashmir] through coercive force of guns and bayonets by nearly a million Indian soldiers," he added.
"Under these circumstances, it is imperative for the international community to step in and discharge its moral, ethical and legal responsibility by bringing an end to the ongoing Indian gross violations of human rights and collective punishments against the Kashmiris," he demanded.
He said that human rights organizations and observers should be given access to Jammu and Kashmir "to assess the situation on ground".
"An independent inquiry under the UN auspices should be held and those responsible for decades of systematic, and gross violations of fundamental rights of Kashmiris be taken to task," he added.
Indian-administered Jammu and Kashmir has been under a near-complete lockdown since Aug. 5, after India scrapped its special status. Since then India has also blocked communication access and has imposed restrictions to thwart any protests.
Indian authorities, however, claim that daytime restrictions have been lifted in 90% of the region.
Referring to a possible special session of Organization of Islamic Cooperation (OIC) to discuss situation in Jammu and Kashmir, Qazi said: "Turkey has always been supporting people of Kashmir and it will, of course, support holding of such a summit."
On Tuesday, Pakistan's Foreign Minister Shah Mehmood Qureshi had said that Saudi Arabia and the UAE have supported Pakistan's plan to summon a special session of the OIC to discuss the situation in Jammu and Kashmir.
Responding to a question, the Pakistani envoy said that the multi-billion-dollar China-Pakistan Economic Corridor (CPEC) "may have been the target of India by its illegal Aug. 5 move".
From 1954 until this Aug. 5, Jammu and Kashmir had special provisions under which it enacted its own laws.
The provisions also protected the region's citizenship law, which barred outsiders from settling in and owning land in the territory.
India and Pakistan both hold Kashmir in parts and claim it in full. China also controls part of the contested region, but it is India and Pakistan who have fought two wars over Kashmir.