American couple sues police for $10M after officer pulls gun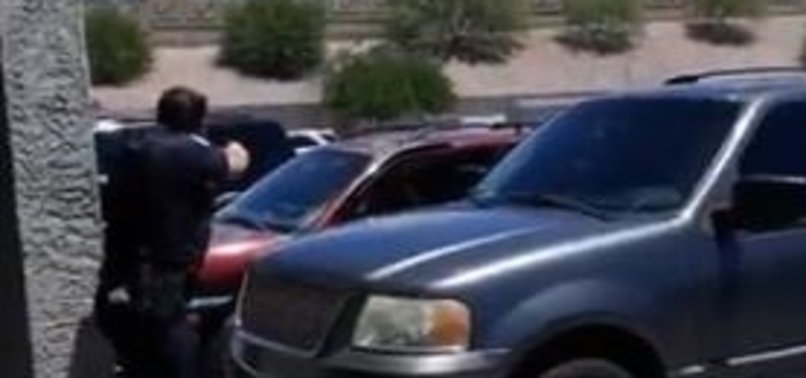 A man from Phoenix, Arizona and his fiancee are suing the Phoenix Police Department for $10 million after officers responding to a shoplifting call pulled their guns on them in a confrontation recorded on video that has since gone viral.
Dravon Ames and Iesha Harper had reportedly left a local dollar store with their one and four-year-old daughters May 29 when they noticed the older sibling had a doll from the store they had not paid for.
Video released by police on Tuesday appears to show Ames being handcuffed after police show up to a parking lot. Harper is in the backseat with the two children as a second officer commands her to exit the vehicle.
"You are not complying with me," the officer says as he opens the backdoor of the vehicle with his weapon drawn. "When I tell you to do something you f***ing do it."
The elder child then exits the vehicle as the officer lowers his handgun. Harper then exits as well, holding the younger child in her arms.
She hands off her two children to what appears to be a passerby as she is also put in handcuffs.
The video was heavily blurred by police for what they say are redaction purposes.
A separate video shot at ground-level appears to show the officer who commanded Harper to leave the car she was in, commanding her to "get out of the f***ing car right now." She tells him the door nearest her, which would have opened to his side, is broken and will not open.
He then commands her to put her hands up, which Harper replies to by saying "I can't put my hands up I have a f***ing baby in my hands. I can't. I'm pregnant."
A claim filed in court alleges that one of the officers told Harper: "I could have shot you in front of your f***ing kids," according to NBC News.
The claim is seeking $2.5 million for each of the parents and each of the children, alleging police committed a slew of unlawful actions, including rights violations, battery, unlawful imprisonment and false arrest, according to NBC.
The news outlet said the claim was filed Wednesday, and noted the family is being represented by former state Attorney General Thomas Horne.
Police have said they have launched an internal investigation into the incident.