N. Macedonia honors head of Turkish state aid agency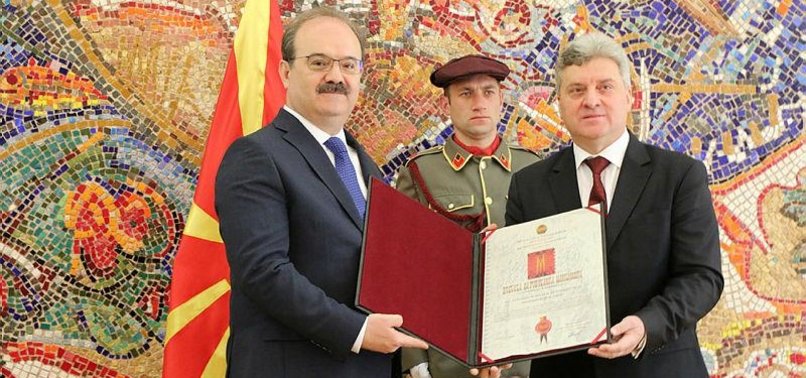 North Macedonia on Wednesday awarded the head of Turkey's state-run development aid agency with Order of Merit.
The Order of Merit was presented to Serdar Çam, president of Turkish Cooperation and Coordination Agency (TIKA), by North Macedonia's President Gjorge Ivanov at a ceremony in the capital Skopje on Wednesday.
The ceremony was also attended by Turkey's Ambassador to Skopje Tülin Erkal Kara.
Ivanov in his speech said that TIKA has implemented more than 900 projects worth approximately €60 million ($67.54 million) in North Macedonia.
"As a president, professor and father, I believe that there is an investment that exceeds all these investments in terms of both importance and continuity and that is our investment in children which is our future," said Ivanov.
- 'TIKA SAVES LIVES OF CHILDREN"
He recalled that the first Pediatric Intensive Care Center in North Macedonia was opened in 2013 with the donation made by TIKA.
"Under the leadership of my friend, Turkey's President Recep Tayyip Erdoğan, TIKA a few years ago supported a very important initiative. Thanks to TIKA's investment, hundreds of children have healthy and normal lives. TIKA saves the lives of children with everything they do," he said.
Ivanov also said that TIKA has invested in the education of young people as well as in the health sector.
He said that close to 40 schools have been restored and equipped throughout the country.
Çam, for his part, said he has had a very emotional and meaningful day after receiving such a prize from Ivanov and his wife, whom he described as a close friend of Erdoğan and Turkey's First Lady Emine Erdoğan.
"I have always been very happy to serve these places, but I also know that I have an additional responsibility after receiving this prize. I will be delighted to be at the service of this country and this nation until the end of my life," Çam added.