German airport workers to go on strike at eight airports
WORLD
Agencies and A News
Published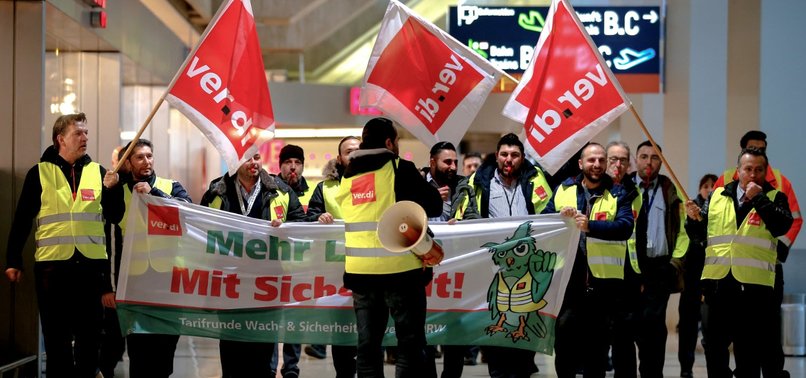 Security personnel at Germany's major airports Frankfurt, Munich and Hamburg will go on a strike on Tuesday, Ver.di trade union announced on Monday. The union said it has decided to expand the planned warning strike at Frankfurt Airport on Tuesday to seven other airports, including Munich, Hamburg, Bremen, Hanover, Leipzig, Dresden and Erfurt. The security personnel at Frankfurt Airport will stop performing their duties on Tuesday between 2 a.m. (0100 GMT) and 8 p.m. (1900 GMT). In other airports, local branches of the union will decide at what time the strike will take place.
A planned strike at Germany's largest airport, Frankfurt, set for Tuesday will include action at seven other airports in the country, the Verdi trade union said.
"Employers should be able to react to this warning signal," union offical Ute Kittel said in a Monday statement. "But since they have, for reasons impossible to understand, not shown any willingness to talk or present a better deal, an expansion of the strike is necessary."
The strikes are a warning ahead of pay talks with the employers' association on January 23. The union is calling for aviation security personnel across the country to be paid 20 euros (23 dollars) an hour.
Employers have only offered smaller increases, with rates for workers in eastern Germany set to rise at a slower pace than that enjoyed by their peers in the west.
Verdi officials have lashed out at the proposed different treatment for workers in the east and the west.
"Security in the east is not worth anything less, and the employers are not worth anything less either," said Kittel, speaking on the "Morgenmagazin" news show on broadcaster ZDF. She said workers shouldn't have to make do with 6 euros less just because of the zip code where they were born.
Walkouts at five airports last week forced thousands of passengers to revise their travel plans.
The other seven airports are in Bremen, Dresden, Erfurt, Hamburg, Hanover, Leipzig/Halle and Munich.
Airport officials have warned that major disruptions are likely and have urged passengers to consider alternate arrangements if they are planning to fly on Tuesday.
The threatened strike comes as Frankfurt Airport's operator announced it saw more passengers in 2018 than in any other year.
Fraport counted 69.5 million passengers, a 7.8-per-cent increase on 2017.
Fraport boss Stefan Schulte had already predicted in August that the airport would have more than 69 million passengers for the year.