Bosnia races to launch shelters for EU-bound migrants before harsh Balkan winter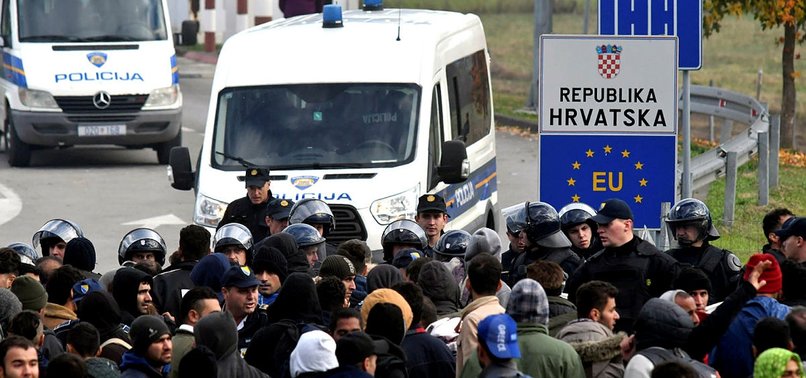 With winter knocking at the door, Bosnia is racing to avert a humanitarian crisis for thousands of EU-bound migrants crossing its mountainous terrain and sleeping without proper shelter as temperatures drop.
The poor Balkan state has become a well-trodden stop on the new route to the European Union for migrants escaping war and poverty in Asia, the Middle East and North Africa.
Some 20,000 have traversed the rugged country this year, headed for EU member state Croatia, according to authorities.
But Bosnia, saddled with its own economic and political problems, is not eager to host the newcomers and has been slow to open reception centers -- especially in the northwest region, where most are gathering near the Croatian border.
Last week authorities unveiled two new facilities, one in the northwest and the other near Sarajevo. Together, they double the total number of available beds for migrants to around 1,700.
That still leaves more than 1,000 others in fragile conditions that could turn into a "humanitarian tragedy" when the first snow falls, the UN refugee agency has warned.
Many migrants have been living under tarpaulin, tents and inside an abandoned building in a wooded park around Bihac, a city in the northwest that has become a base for attempts to cross into Croatia.
Hundreds of others are clustered at make-shift camps in the area or inside deserted homes.
Toilets and showers are in short supply, while aid groups and locals are stepping in to provide meals.
'The Game'
"We are very lucky that the weather has been mild so far," said Peter Van Der Auweraert from the International Organization for Migration (IOM).
The goal is to provide roofs for around 3,700 people "who are in transit in Bosnia", not permanent housing, he added.
Many of the migrants have been traveling for years and are eager to move forward.
Mohsin, a 27-year-old from Pakistan, said he was planning to leave Bihac soon in the hope of reaching Italy before winter.
"I tried three times but had bad luck. I was caught twice in Croatia and once, the last time, in Slovenia, after seven days of walking," he told AFP.
Migrants refer to these attempts as "The Game".
While most manage to continue north, some migrants have been thwarted by border police who are stepping up patrols.
The unlucky ones have reported numerous accounts of police abuse, saying officers stole their phones and money and beat them with tree branches, according to Doctors Without Borders (MSF).
"That is not the job of the police to break the phones, to steal the money and to beat the people," said an Afghan migrant who gave his name as Commando, holding up his phone's shattered screen.
Mobile phones are a lifeline for migrants on the move, allowing them to touch base with relatives and also send coordinates of their route to others trying to follow, according to Bosnian police.
Border clashes
The urgency of winter was one factor spurring several hundred migrants to march to the Croatian border last week, where they skirmished with police obstructing their path.
The group, which includes families with young children, has been sleeping in tents on the roadside for several days, huddling around campfires as temperatures sink to around five degrees overnight.
They refuse to return to a make-shift camp-site in Velika Kladusa, where resources had run dry.
"The situation in Velika Kladusa's camp is real agony," said Zehida Bihorac, a local resident who has been bringing migrants food, clothing and other support.
"These people have been without electricity for more than a month and a half and their water was cut off...as well," she told AFP last week.
Up to 200 migrants have been arriving daily in the Bihac area in recent weeks, with tensions rising as some locals came out to protest the influx.
Police announced last week that they would no longer allow migrants into that northwest zone, sending at least 700 south back to Sarajevo in recent days.
The decision was taken because of the "deteriorating security situation", Snezana Galic, a spokeswoman for the regional police, told AFP.
In early October, police officers fired warning shots into the Bihac camp after being swept up in a melee with migrants who had been fighting among themselves.
But those who have made it to within sight of the EU's edge are not interested in backtracking.
"We had a good life and we have lost it," said Majid Dayyani, an Iranian among those camped close to the Croatia border crossing.
"We want a life, is that too much? That's not too much. We want to leave this country, someone should hear us."