Turkey has never given up its goal of joining the European Union, President Tayyip Erdoğan said on Sunday as he announced his manifesto for next month's snap elections.
Speaking to thousands of supporters in Istanbul, Erdoğan said that Ankara's counterparts in Europe did not show the same determination on the matter.
Turkey began talks to join the EU in 2005, 18 years after applying. While a series of factors slowed negotiations, notably the Cyprus issue and resistance in Germany and France to Turkish membership, since 2016 membership talks have all but collapsed.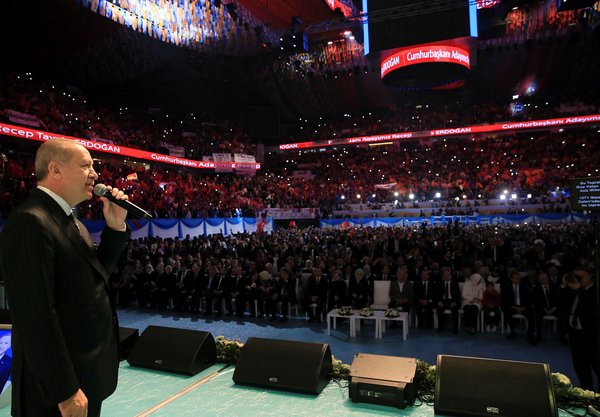 Turkey's Erdoğan underlined the importance of June 24 presidential elections by describing it as 'milestone' for Turkey, and saying that AK Party would continue to side with democracy, freedom, free use of rights.
"Ensuring prosperity of Turkish nation is as important as removing obstacles for freedom of thought and faith, securing individual freedoms."
He also vows to continue fight against abuse, violence and harassment against women, terming all such acts as 'major crimes against humanity'
TURKEY VOWS TO LAUNCH NEW CROSS-BORDER MILITARY OPERATIONS
President Erdoğan also said Turkey would launch cross-border offensives like previous military operations in Syria in the "new era" after snap polls on June 24.
"Turkey will launch additional offensives like Euphrates Shield and Olive Branch operations to clear its border of terror organisations in the new era," Erdoğan said as he revealed the ruling Justice and Development Party's manifesto in Istanbul.
He was referring to previous operations in northern Syria against the YPG/PKK and Daesh terrorists.