Turkish woman seeks justice for assault on tram in Germany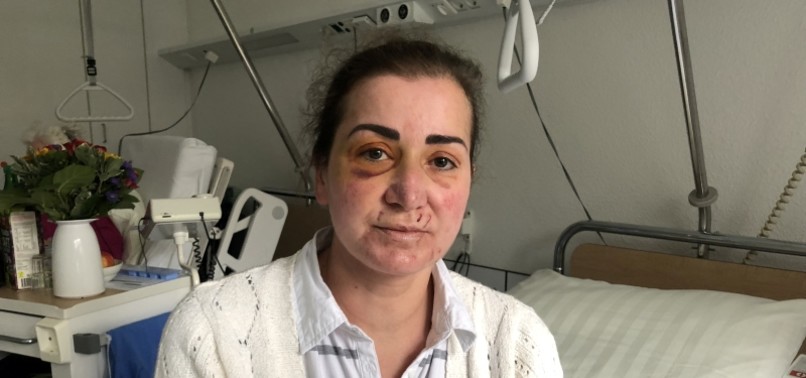 Hacer Uğurlu is demanding justice from German authorities after a man she did not know attacked her on a tram in Cologne last week. The German citizen of Turkish origin was commuting to work when the suspect started beating her, leaving her with serious injuries to her face.
Uğurlu was visited by the Turkish Consul General in Cologne Ceyhun Erciyes at the hospital where she was undergoing treatment. Erciyes said they contacted police about the incident.
Speaking to reporters in her hospital room, Uğurlu said the assailant first stared at her, muttered something and then started swearing.

"He was saying something when I got up from my seat and was about to get off. He suddenly hit me in the face. Nobody in the tram intervened," she said.

Uğurlu added that the assailant "just walked away" when the tram stopped.

"I asked the tram driver why he opened the door and he told me he did not see what happened. I told him that the attacker can be seen on camera and he responded 'if they are not broken,'" Uğurlu said, adding that she felt like the attack would be "covered up."

She vowed not to rest until the perpetrator is caught.

"We do not feel safe. Our lives are in danger here," Uğurlu said.
No motive is clear but Turks in Germany often fall victim to anti-Turkish, anti-Muslim attacks.

In August, a taxi driver of Turkish descent was attacked by three people he picked up in Cologne in what he described as a racist attack. It is estimated that there have been at least 42 attacks against Turks so far alone in Germany this year.
Racist attacks against Turks used to be rare but they gradually increased in the 1990s during which several Turks were killed in arson attacks by suspected neo-Nazis. Since then, attacks have been sporadic but enough to raise concerns in the Turkish community as far-right groups have become mainstream in the past few years, along with anti-Turkish discourse among far-right politicians.
German Foreign Minister Heiko Maas acknowledged that Turks in Germany still face hostility and discrimination while speaking at the 25th anniversary of a neo-Nazi arson attack that killed five Turks in May.
Germany has also witnessed growing Islamophobia in recent years fueled by propaganda from far-right parties, which have exploited fears over the refugee crisis and terrorism.