Erdoğan calls UEFA probe into soldier salutes by Turkish players "discrimination"
SPORT
Agencies and A News
Published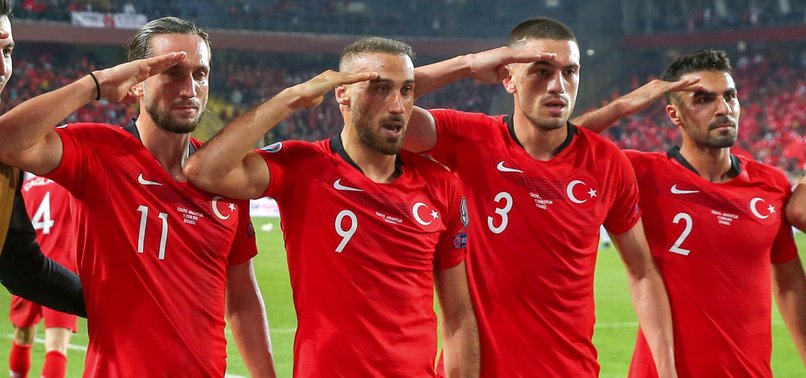 President Recep Tayyip Erdoğan said Thursday that UEFA was discriminating against Turkey's football team following a controversy over the players' use of military salutes on the pitch. UEFA opened disciplinary hearings against Turkey last month after its players saluted during Euro 2020 qualifiers -- a gesture seen as supporting the country's military offensive in Syria.
Turkish President Recep Tayyip Erdoğan on Thursday rejected as "discriminatory" a UEFA investigation into players' military-style salutes in the last two international games.
"We reject UEFA's discriminatory, unfair and political stance against our national team and our clubs," Erdoğan told reporters in Ankara ahead of his departure for an official visit to Hungary.
The UEFA said on October 15 that it launched disciplinary proceedings against Turkey after players made military-style salutes during games against France and Albania in Euro 2020 qualifying.
The players' salutes followed a cross-border offensive that was launched by Turkey-led forces to clear the YPG and Daesh terrorists out of the north-eastern region of war-torn Syria. The offensive was halted after two ceasefire deals brokered by the US and Russia.
The UEFA described the salutes as "potential provocative political behaviour". The European football governing body has yet to announce the result of its probe.
"To call Turkish players being in solidarity with soldiers as a provocative, political behaviour is more than double standards, it is an open unlawfulness," Erdoğan charged.
The UEFA must "correct this error as quickly as possible," he added.
Erdoğan added that Turkish athletes representing their country abroad faced a "systematical lynch campaign" since the launch of Turkey's cross border anti-terror operation dubbed Peace Spring.
Turkish players in all sports especially football have been celebrating by a salute in tribute to the Turkish soldiers engaged on the frontline.
The Operation Peace Spring, launched on Oct. 9, aims to eliminate terrorist YPG/PKK elements from northern Syria east of the Euphrates River in order to secure Turkey's borders, aid in the safe return of Syrian refugees, and ensure Syria's territorial integrity.
Erdoğan also referred to French football star Antoine Griezmann's celebratory salute at French President Emmanuel Macron in Moscow after Les Bleus' (The Blues) success in the 2018 FIFA World Cup.
The Barcelona forward faced no UEFA probe.
In October, UEFA launched an inquiry after the EURO 2020 qualifiers in Istanbul and France where Turkish players gave military-style salutes in celebration of goals.
This probe was requested by France.