Refugees in Syria's Idlib struggle with rains, flooding
MIDDLE EAST
Anadolu Agency
Published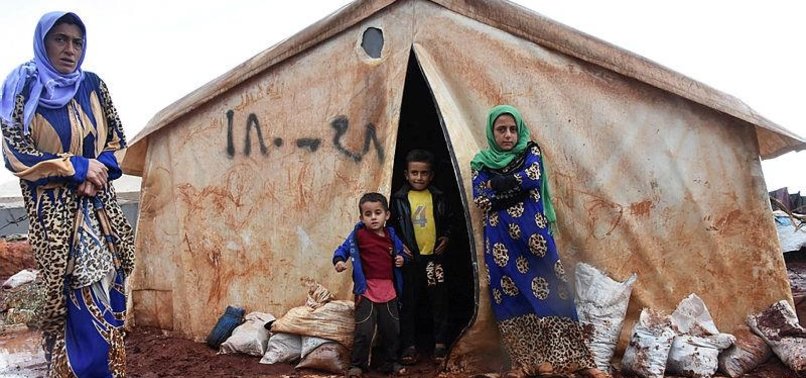 Refugee camps in Syria's northwestern Idlib province near the Turkish border are struggling with heavy flooding after several days of torrential rainfall, according to an Anadolu Agency correspondent based in the region.
Many of the flimsy tents erected in Idlib's Al-Ihsan refugee camp -- currently home to some 1,000 people -- have been inundated by floodwater, rendering blankets and bedding completely unusable.
Eleven-year-old Ali Izziyah told Anadolu Agency that he and his family had been forced to seek refuge at the camp after Assad regime forces had entered their village in Hama province's rural countryside.
"We need tents, stoves and coal," he said. "It's very difficult living here, especially when it's cold."
Ittihad Ali, a mother of five who has lived at the camp for over a year, said she and her children were desperate for heating equipment with winter just around the corner.
"Life is really harsh here; the conditions we face are almost unlivable," she said. "We will be left out in the cold, then starve. This place lacks the most basic amenities."
"My children have been chronically ill since we arrived here," the struggling mother lamented. "Now the heavy rains have turned everything into mud."
Azzam Oleywi, another camp resident, recalled his dismay upon waking up for dawn prayers -- along with his companions -- to discover the camp inundated with rainwater.
"The rain was pouring down on our sleeping children," he said.
Noting that most camp residents were deep in debt, Oleywi told Anadolu Agency: "There are no beds, pillows or tarpaulins. We have nothing. There are no employment opportunities here."
"Living in the camp is really difficult. There are just too many people here," he added. "I hope those who imposed these conditions on us share the same fate."