Antarctica team shows women's role in Turkish science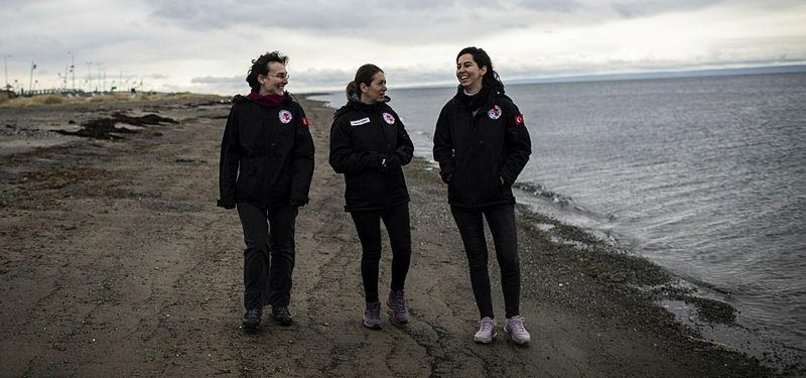 On the eve of Friday, International Women's Day, the record participation of Turkish female scientists in Antarctica serves to show the role of Turkish women in the nation's development and progress.
This year's recently concluded Turkish National Antarctic Science Expedition was led by Burcu Özsoy, head of the Polar Research Center at Istanbul Technical University.
The previous Turkish team of researchers traveled to Antarctica with four women participants for 30 days. This year's research team -- the third so far -- had eight women participants, including five Turks.
Internationally renowned Turkish diver Şahika Ercümen and scientist Sevil Deniz Yakan Dündar were part of Turkey's expedition to the bottom of the world.
A team of Anadolu Agency journalists, including female economy correspondent Dilara Zengin and photojournalist Özge Elif Kızıl, covered the scientific studies in Antarctica during the trip, which kicked off on Jan. 29.
Three foreign female researchers took part in the expedition, which for the first time included research projects from four countries.
Biologist Barbora Chattova from the Czech Republic and glaciologist Shelly Anne MacDonell and mountain guide Guide Lissette Tamara Munoz from Chile's team worked with the Turkish team in Antarctica.
Turkey's third Antarctica team boasted its highest number of female participants to date, said Özsoy, expressing her pride in this accomplishment.
Turkish diver Ercümen said one of her greatest wishes is to inspire little girls who will guide the world in the future with both sports and science.
Antarctica has served as a scientific research zone since a 1959 treaty to which Turkey is a signatory.
The lowest temperature recorded on the coldest continent in 1983 was -89 degrees Celsius (-128 Fahrenheit), but in the summer, the temperatures reach a balmy -15 degrees Celsius (5 Fahrenheit).
Turkey's Istanbul Technical University Polar Research Center was founded in Antarctica in 2015.
The mission of the center is to carry out research on Antarctica and raise Turkey's profile in the international scientific community.
In April 2016, the first-ever Turkish team of researchers -- 14 medics, botanists, geologists and oceanographers from seven universities -- travelled to Antarctica to study the impact of climate change.
The scientists told Anadolu Agency that their research is important to collect information on climate change and the world's future.