Published December 10,2018
Subscribe
One of the first books printed during the Ottoman era, the "Kitab-ı Cihannüma" (The Book of Pinnacle), was restored with the efforts of Turkish Cultural Foundation (TCF) and can now be viewed at the Chester Beatty Library in Ireland's capital Dublin.
Yalçın Ayaslı, the founder and chairman of the TFC, said that they are happy to support the conservation of the book within "a mission that aims to protect Turkish (cultural) heritage and introduce it to the world."
"Visitors coming to Chester Beatty, which is one of Europe's leading museums and libraries, can receive information from this important work about the world of Ottoman and Turkish art and science thanks to the fact that the book will be exhibited," Ayaslı said.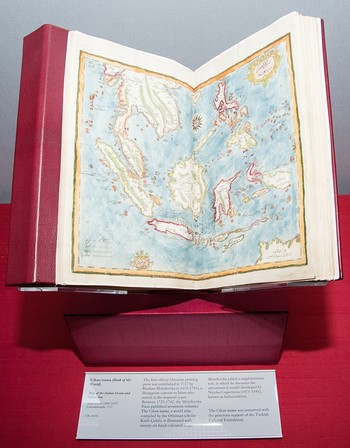 He also said that, thanks to the conservation project, "researchers will be able to examine the work without damaging the book."
Expressing her happiness over cooperating with TFC on the restoration of the book, Chester Beatty Library Director Fionnuala Croke said: "The exhibition of this book will play an important role in better understanding the Turkish cultural heritage in Ireland as well as appreciating it."
During the restoration work, the leaves of the book, which had been damaged over the centuries, were subjected to a special restoring process and all of the pages were re-stitched.
After the restoration and conservation works, the book display was opened to visitors in the Arts of the Book Gallery at Chester Beatty Library. The gallery features almost 600 Asian, Islamic or Western artifacts, particularly related to manuscript traditions.
Katip Çelebi, one of the most famous historians and geographers of the Ottoman Empire, started writing the book in 1648 and made additions to it in 1654. A limited number of copies were printed in 1732 by İbrahim Müteferrika, who established the first printing house of the Ottoman Empire. While moveable type printing was used by Europeans from the mid 1400s, it remained prohibited in the Ottoman Empire until 1739, due to strong opposition by Muslim legal scholars and manuscript scribes.
One of the manuscripts of the book, which has been copied by calligraphers and painters many times, is located in the Topkapı Palace Library in Istanbul.
In addition to 13 astronomical and 26 geographical maps, the book also includes a wide range of social science data. The book provides information about urban geography – such as cities' latitude and longitude and their distances from one another – and about industry, religion, language and population in the nations of its era.