Turkey calls on Russia, US to fulfill obligations under Syria safe zone deals
WORLD
Agencies and A News
Published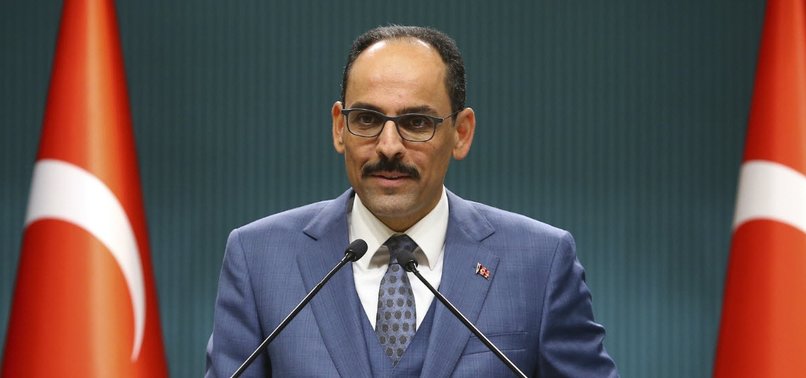 Russia and the United States have to fulfill their obligations under deals for Syria safe zone, Ibrahim Kalın -- Turkish presidential spokesman -- told reporters during a press conference following a cabinet meeting chaired by Turkish President Recep Tayyip Erdoğan. Kalın also announced that Turkish President Erdoğan would hold a quartet meeting with France, Germany, UK following NATO summit on Dec. 3-4 in London.
President Recep Tayyip Erdoğan will hold a quadrilateral meeting with the leaders of France, Germany and the U.K. in London, his spokesman said Tuesday.
Speaking to reporters following a Cabinet meeting at the presidential complex, Ibrahim Kalın said the Turkish president will hold the meeting after the NATO summit on Dec. 3-4.
At the summit, Erdoğan will talk about "NATO's mission, vision, its position in the 21st century, its next activities and perception of threats," he added.
Kalın recalled Turkey's recent deals on Syria's safe zone with the U.S. and Russia, expressing hope that the countries stand by them.
Ankara and Washington reached a deal on Oct. 17 to pause Turkey's Operation Peace Spring in northern Syria for 120 hours to allow the withdrawal of YPG/PKK terrorists from the planned safe zone.
On Oct. 22, Turkey reached an agreement with Russia to allow the YPG/PKK terror group to withdraw from the safe zone.
Turkey wants to repatriate some 2 million Syrian refugees, which it is currently hosting, in the safe zone after clearing it of terrorists.
In its more than 30-year terror campaign against Turkey, the PKK -- listed as a terrorist organization by Turkey, the U.S., and the EU -- has been responsible for the deaths of over 40,000 people, including women, children, and infants. The YPG is its Syrian offshoot.
- STANCE ON US' ISRAEL MOVE
Kalın rejected the U.S. policy reversal on illegal Israeli settlements in the occupied West Bank, saying the move ignores the rights of Palestinians and international law.
On Monday, U.S. Secretary of State Mike Pompeo announced that Israeli settlements in the West Bank will no longer be viewed as illegal.
Roughly 650,000 Israeli Jews currently live on more than 100 settlements built since 1967, when Israel occupied the West Bank and East Jerusalem.
The Palestinians want these territories along with the Gaza Strip for the establishment of a future Palestinian state.
International law views both the West Bank and East Jerusalem as occupied territories and considers all Jewish settlement-building activity there illegal.