Donald Trump in tweet thanks Erdoğan, says millions of lives will be saved
WORLD
Agencies and A News
Published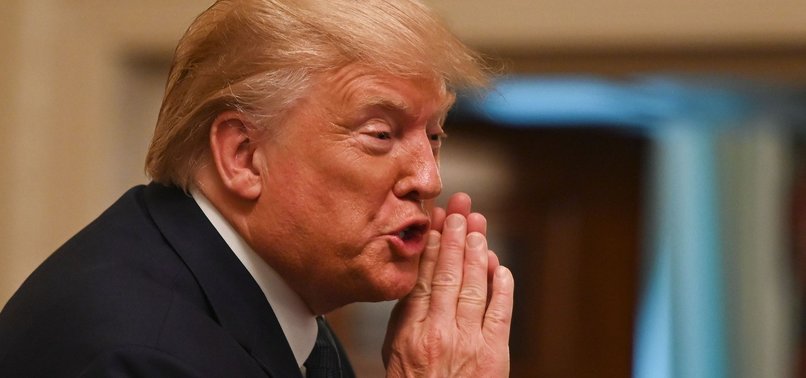 U.S. President Donald Trump said on Twitter on Thursday there was "great news out of Turkey" after a U.S. delegation held talks in Ankara over Turkey's military incursion into northeast Syria. "Thank you to (Turkish President Tayyip) Erdogan," Trump said. "Millions of lives will be saved!"
U.S. President Donald Trump said Thursday that "Great news" will soon be coming out of Turkey following hours of bilateral negotiations with officials from both countries.
Trump referred to an upcoming press conference Vice President Mike Pence and Secretary of State Mike Pompeo will hold after having extensive talks with senior Turkish officials, including President Recep Tayyip Erdoğan.



"Millions of lives will be saved!" Trump wrote on Twitter. "Thank you to @RTErdogan."
U.S. Vice President Mike Pence met Erdoğan earlier on Thursday as part of a U.S. mission to persuade Turkey to halt an offensive dubbed "Operation Peace Spring" in northeastern Syria.
Separately a Turkish official told Reuters that Turkey "got exactly what we wanted out of the meeting."

TRUMP HAILS ERDOĞAN FOR PAUSING SYRIA OPERATION
"I really appreciate what Turkey have done. They did the right thing and I have great respect for the president," Trump told reporters in the state of Texas, referring to Erdoğan.
His remarks came shortly after Ankara agreed with Washington to pause Operation Peace Spring for five days so that YPG/PKK could leave the region.
"I just want to thank and congratulate President Erdoğan. He is friend of mine and I am glad to we did not have a problem," he said. "Frankly, he is the hell of a leader, he is a tough man, strong man."
Turkey launched Operation Peace Spring in northern Syria on Oct. 9 in order to secure Turkey's borders, aid the safe return of Syrian refugees, and ensure Syria's territorial integrity.
Ankara wants to clear the region east of the Euphrates River of the terrorist PKK and its Syrian offshoot, the YPG.
In its more than 30-year terror campaign against Turkey, the PKK -- listed as a terrorist organization by Turkey, the U.S., and the European Union -- has been responsible for deaths of 40,000 people, including women, children and infants.