Pence says US and Turkey have agreed to a cease-fire in Syria
WORLD
Agencies and A News
Published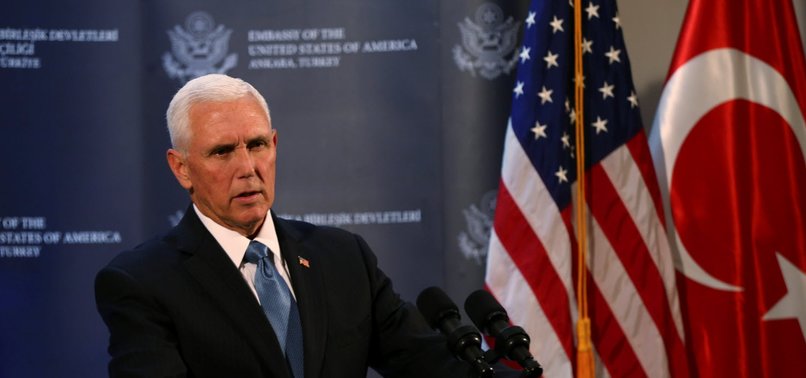 Turkey and the United States have agreed to a ceasefire in Syria, US Vice President Mike Pence announced on Thursday after the high-level meetings with Turkish President Recep Tayyip Erdoğan at the Beştepe Presidential Complex in the Turkish capital Ankara. Turkey will pause its military operation dubbed the "Operation Peace Spring" to allow YPG militants to withdraw from a "safe zone" over 120 hours, after which the operation will end, Pence said.
Turkey has agreed to a five-day ceasefire in northeast Syria to allow for withdrawal of YPG militants, U.S. Vice President Mike Pence said on Thursday after talks with Turkish President Recep Tayyip Erdoğan.
"Today the United States and Turkey have agreed to a ceasefire in Syria," Pence told a news conference after more than four hours of talks at the presidential palace in Ankara.
Pence had flown to Turkey to call for a halt in Turkey's cross-border military operation, called Operation Peace Spring, under which Turkey has aimed to clear YPG militants from a 20 mile (32 km) deep "safe zone" along the border.
"The Turkish side will pause Operation Peace Spring in order to allow for the withdrawal of YPG forces from the safe zone for 120 hours," Pence said.
"All military operations under Operation Peace Spring will be paused, and Operation Peace Spring will be halted entirely on completion of the withdrawal," he said.
"With the implementation (of the ceasefire) the U.S. will not impose further sanctions on Turkey," Pence said after talks in Ankara. "The president has decided to withdraw the economic sanctions" once the operation is done, Pence also said in a statement.
Pence added that Turkey and the U.S. also agreed to eliminate Daesh completely in Syria's northeast.
Turkey launched Operation Peace Spring in northern Syria on Oct. 9 in order to secure Turkey's borders, aid the safe return of Syrian refugees, and ensure Syria's territorial integrity.
Ankara wants to clear the region east of the Euphrates River of the terrorist PKK and its Syrian offshoot, the YPG.
In its more than 30-year terror campaign against Turkey, the PKK -- listed as a terrorist organization by Turkey, the U.S., and the European Union -- has been responsible for deaths of 40,000 people, including women, children and infants.