Britain mulling over 'series of options' on Iran's seizure of tanker
WORLD
Agencies and A News
Published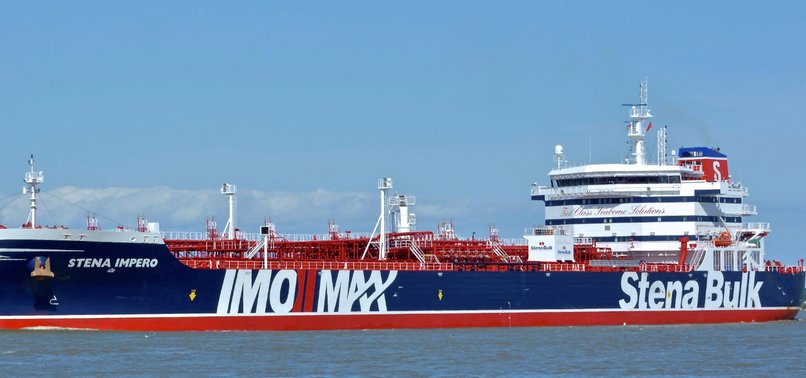 London was considering several options in response to Iran's seizure of a British-flagged tanker, junior defence minister Tobias Ellwood said Sunday. Britain has said its priority is to de-escalate tensions with Iran in the Gulf, and has called for the release of the Stena Impero oil tanker which was seized Friday in what Britain said was an illegal move in Omani waters. "We are going to be looking at a series of options," Ellwood told Sky News television.
Britain is looking into a series of options to respond to Iran's seizure of a British-flagged tanker, junior defence minister Tobias Ellwood said on Sunday when asked whether London was considering putting sanctions on Tehran.
"Our first and most important responsibility is to make sure that we get a solution to the issue to do with the current ship, make sure other British-flagged ships are safe to operate in these waters and then look at the wider picture," he told Sky News.
Asked about the possibility of sanctions, he said: "We are going to be looking at a series of options ... We will be speaking with our colleagues, our international allies, to see what can actually be done."
"If we want to continue playing a role on the international stage -- bearing in mind that threats are changing -- all happening just beneath the threshold of all-out war, then we must invest more in our defence, including our Royal Navy," said Ellwood.
"Our Royal Navy is too small to manage our interests across the globe if that's our future intentions and that's something the next prime minister will need to recognise."
In a report published Sunday, a committee of parliamentarians scrutinising Britain's national security strategy also said the incoming prime minister should boost defence spending if he wants Britain to become a more significant global player.
It said May's "Global Britain" agenda was "meaningless" against a backdrop of "reduced diplomatic spending and under-powered defence".
The NATO target of spending two percent of GDP on defence may not be enough for Britain "in light of both the scale and range of threats to the UK and the costs involved in keeping pace with rapid technological change".
Britain's Foreign Minister Jeremy Hunt previously rejected military action against Tehran, but has threatened "serious consequences" in solidarity with the US.
The freezing of Iranian assets is being considered as an option, according to unconfirmed media reports. The Foreign Ministry has declined to comment.
On Friday, Iran stopped the Britain-flagged oil tanker Stena Impero and escorted it to the port of Bandar Abbas, where it and the 23 crew members will stay pending an investigation, according to Iranian media.
The Iranian Revolutionary Guard claimed that the Stena Impero had continued without stopping after a collision with a fishing boat. The vessel also allegedly turned off its GPS tracker, strayed onto the wrong side of the busy shipping lane and was carrying environmentally hazardous materials.
Stena Bulk, the operator of the British-flagged Stena Impero, says the vessel was in "full compliance with all navigation and international regulations."
The Swedish-based operator said it has issued a request to Bandar Abbas port authorities to visit the ship's 23 crew members. The company said its staff in India, Latvia, the Philippines and Russia were "in constant touch" with the crew members' families.
The confrontation between Britain and Iran began earlier this month when the Iranian oil carrier Grace 1 was impounded off the British territory of Gibraltar for allegedly violating EU sanctions with its Syria-bound cargo.
Britain later accused Iran of harassing a British ship in the Gulf.
The US, which is pursuing a "maximum pressure" campaign with sanctions on Tehran after withdrawing from the 2015 nuclear deal, has repeatedly accused Iran of military aggressions in the region.
Iran's ambassador to Britain, Hamid Baeidinijad, took to Twitter on Sunday to warn London against any escalation in the row.
"UK government should contain those domestic political forces who want to escalate existing tension between Iran and the UK well beyond the issue of ships. This is quite dangerous and unwise at a sensitive time in the region. Iran however is firm and ready for different scenarios," he wrote.