Ankara to retaliate against any U.S. sanctions over S-400 deal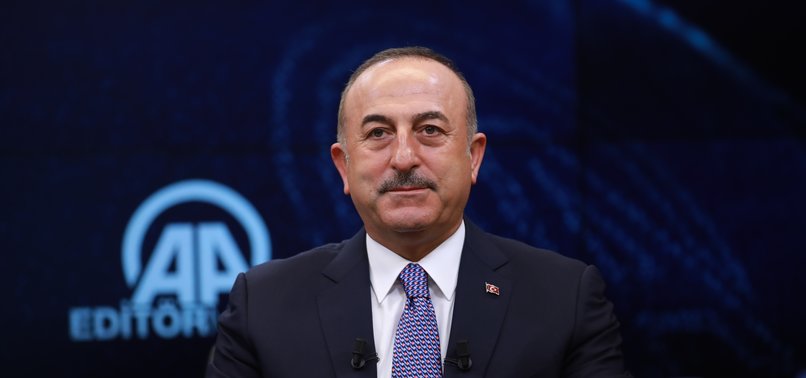 Turkey's foreign minister says his country will retaliate against any possible U.S. sanctions over its deal with Russia for the purchase of the S-400 missile defense system. Defending the purchase of S-400 missile defense systems from Russia, Turkish Foreign Minister Mevlüt Çavuşoğlu told state-run news agency on Friday that Turkey can choose its defense equipment as "an independent and free" country.
Turkey will never retreat on its deal to buy Russian S-400 missile defense systems, the country's foreign minister said on Friday.
"We will never take a step back [on the S-400s]," Mevlüt Çavuşoğlu told Anadolu Agency's Editors' Desk in the capital Ankara.
"We will continue our dedication in order to be an independent and free nation," Çavuşoğlu said.
His remarks came after President Recep Tayyip Erdoğan said on Wednesday that Turkey has already bought the Russian S-400 system and is set to take delivery next month.
On why Turkey decided to purchase a defense system from Russia, Çavuşoğlu said Ankara tried to buy U.S. Patriots, but couldn't reach a deal.
"Then we looked for alternate [defense systems] and we got the best offer and best technology from Russia," he said.
Turkish officials have stressed that Russia offered technology transfers with the S-400 deal.
"Even if we reached agreement [with the U.S.] on the price and delivery process, can you [U.S.] guarantee it would be passed by Congress? No, you can't," Çavuşoğlu added.
The foreign minister stressed that if the U.S. takes negative steps towards Turkey over the S-400 purchase, as it has threatened to, Ankara would have counter measures.
Tensions between the U.S. and Turkey have risen in recent months over Ankara purchasing the system, which Washington said will jeopardize Turkey's role in the U.S. F-35 fighter jet program and could trigger sanctions.
Following protracted efforts to purchase an air defense system from the U.S. with no success, Ankara decided in 2017 to purchase the Russian S-400 system.
U.S. officials advised Turkey to buy the U.S. Patriot missile system rather than the S-400s, arguing the Russian system would be incompatible with NATO systems and expose the F-35 to possible Russian subterfuge.
Turkey, however, emphasized the S-400 would not be integrated into NATO systems and would not pose a threat to the alliance.
Stating that NATO can only protect 30% of Turkey's airspace, Çavuşoğlu said, "This is surely a national cause."
- IDLIB, SYRIA CEASE-FIRE VIOLATIONS
On violations of the cease-fire in Idlib, Syria, Çavuşoğlu said any excuse from Russia is "unacceptable," as it is supposed to be a guarantor of the peace.
"We are working with Russia on the cease-fire. Russia needs to fulfill its responsibility here," he stressed.
Turkey and Russia agreed last September to turn Idlib into a de-escalation zone in which acts of aggression would be expressly prohibited.
The Syrian regime and its allies, however, have consistently broken the terms of the cease-fire, launching frequent attacks inside the de-escalation zone, including a Syrian regime attack Thursday which left three Turkish soldiers slightly injured.
- EASTERN MEDITERRANEAN
Turning to Greek Cyprus' unilateral drilling in the Eastern Mediterranean, Çavuşoğlu called any agreement excluding Turkey "invalid."
"We've sent our drill ships [to the Eastern Mediterranean] in order to protect the rights of Turkey and the TRNC [Turkish Republic of Northern Cyprus]," he said.
But Greek Cyprus "panicked when they saw the ships," he added.
The Turkish-flagged drillship Fatih launched offshore drilling operations on May 3 in an area 75 kilometers (42 nautical miles) off the western coast of the island, and is set to be joined by the drill ship Yavuz.
Turkey has consistently contested the Greek Cypriot administration's unilateral drilling in the Eastern Mediterranean, saying Turkish Cypriots also have rights to the resources in the area and Ankara has the right to hydrocarbon drilling as well.
In 1974, following a coup aiming at Cyprus' annexation by Greece, Ankara intervened as a guarantor power. In 1983, the Turkish Republic of Northern Cyprus was founded.
- KHASHOGGI KILLING
Turkey keeps last year's killing of Saudi journalist Jamal Khashoggi in Istanbul "independent" from bilateral ties with Saudi Arabia, but Riyadh sees it differently, said Çavuşoğlu.
He stressed that President Recep Tayyip Erdogan's call to Saudi King Salman during the recent Muslim holiday of Eid al-Fitr is a sign that Turkey has no problems with Saudi Arabia on a bilateral level.
Çavuşoğlu added that Turkey also condemned a recent missile attack on Saudi soil which left 26 people injured.
Khashoggi, a journalist and columnist for The Washington Post, went missing after entering the Saudi Consulate in Istanbul on Oct. 2.
After weeks of denying any knowledge of his whereabouts, Saudi officials admitted that Khashoggi had died inside the consulate building, but blamed the killing on "rogue" Saudi operatives.
Once inside, Khashoggi was immediately strangled and then dismembered, according to Istanbul prosecutors.
- JERUSALEM
On the Jerusalem issue, Çavuşoğlu said that the U.S. has taken sides on the issue, but no benefit will come from unilateral U.S. steps on the historic city.
Normalizing Turkish-Israeli relations is not currently on the agenda, he said, adding: "The parameters of resolving the Middle East issue are clear: A two-state solution."
U.S. President Donald Trump formally recognized Jerusalem as the capital of Israel in December 2017, and in May 2018 relocated the U.S. Embassy from Tel Aviv to Jerusalem.
Jerusalem remains at the heart of the perennial Mideast conflict, with Palestinians hoping East Jerusalem -- occupied by Israel since 1967 -- will eventually serve as the capital of an independent Palestinian state.
- TENSION IN GULF OF OMAN
On the recent tension in the Gulf of Oman, Turkey's top diplomat underlined the importance of launching a thorough investigation into the incident. "Otherwise, such tensions will shift into a different direction," he warned.
Two oil tankers were attacked on Thursday in the Gulf of Oman while on their way to Asia from Qatar and Saudi Arabia.
Turkish Foreign Ministry on Thursday condemned the attacks on the tankers, saying: "We are concerned that commercial ships in the Gulf region have been targeted for second time in the last one month."