Turkey's Erdoğan on Idlib attacks: Turkey will not remain silent
WORLD
Agencies and A News
Published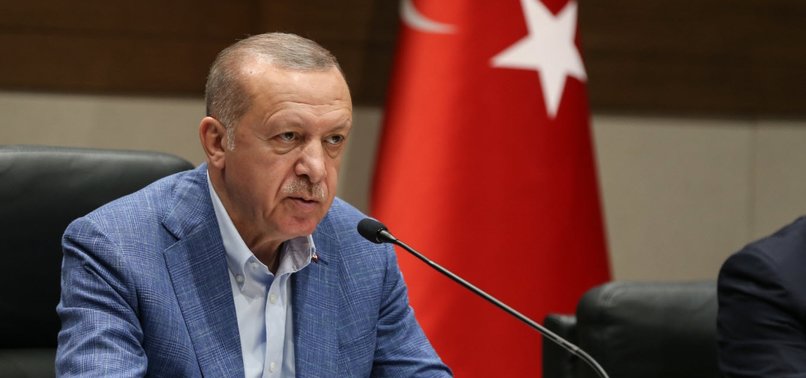 Giving an ultimatum to the Assad regime over the assaults on observation points located in the de-escalation zone for Syria's northern region, Turkish President Recep Tayyip Erdoğan emphasised in Friday remarks that Turkey would not remain silent if Syrian regime continued to attack observation points located in Syria's Idlib.
"
Turkey
will not remain silent if Syrian regime continues to attack observation points in
Syria
's Idlib province," Turkish
President
Recep Tayyip Erdoğan
said in Friday comments [ahead of an official visit to the Republic of Tajikistan] as making statements related to the assaults on a Turkish army's observation point in Syria's Idlib on Thursday, which left three soldiers wounded.
Erdoğan was speaking to reporters prior to his visit to Tajikistan's capital Dusanbe, where he will attend the 5th Summit of Heads of State of the Conference on Interaction and Confidence Building Measures in Asia (CICA).
"[...] We want peace to prevail there [Idlib], we want deaths to stop. But the continuation of attacks on this area with barrel and phosphorus bombs can never be forgiven, and we cannot remain silent because we pay attention to the voice of the people in this region," he said.
Erdoğan stressed that they cannot set the Adana Agreement aside because Turkey continues and will continue to fight against terror organizations in the regions as part of the agreement.
In 1998 Syria and Turkey signed a pact under which Damascus agreed to work actively to resolve Turkey's concerns regarding the terrorist PKK.
In its more than 30-year terror campaign against Turkey, the PKK -- listed as a terrorist organization by Turkey, the U.S. and the EU -- has been responsible for the deaths of nearly 40,000 people, including many women and children.
"Our partner, the U.S., did not keep its promise on
Manbij
. The expectations will not come true. However, it does not mean that we give up on the Manbij issue, we keep all our plans and we will continue to do," Erdoğan said on the Turkey-U.S. cooperation in Manbij.
Turkey is mulling a new counter-terror operation in Syria including Manbij.
Touching on the
Cyprus
issue, Turkish president also underlined that Turkey would not reduce its troops in Northern Cyprus, and adding that Turkish government did not need permission from anyone on issue.
Turkey has the right to keep its troops in
Turkish Republic of Northern Cyprus
(
TRNC
), Erdoğan said.