Climate change protesters block central London roads
WORLD
Agencies and A News
Published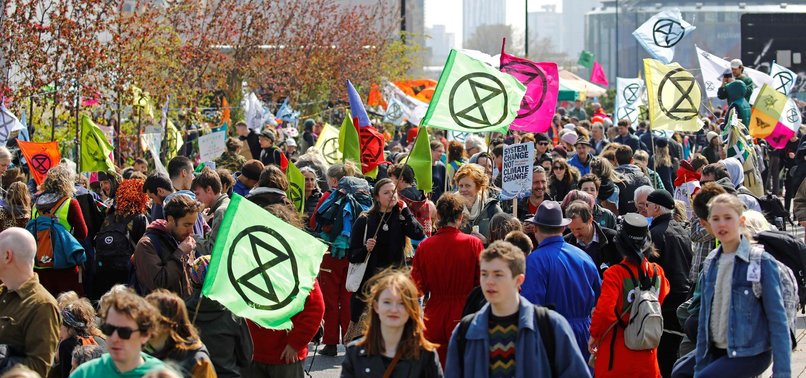 Environmental protesters paralysed parts of central London over the next few days by blocking some of the city's busiest streets in a bid to force the government to do more to tackle climate change. The protesters blocked traffic at Marble Arch, Oxford Circus, Waterloo Bridge, Parliament Square and Piccadilly Circus from Monday at 10:00 GMT. Roadblocks will continue night and day at each site and the demonstrators say the protests could last at least five days.
Thousands of climate change activists have blocked main roads in London on Monday in a bid to protest government inaction over rising global climate and ecological crisis.
The protesters blocked Waterloo Bridge, one of the main passages across River Thames under heavy police presence.
The rallies are also being held in Marble Arch and Oxford Circus, other hotspots in the British capital.
The organizers, Extinction Rebellion, a grassroots activist movement, have said they planned to continue the protests throughout the week, "each day thousands of people will sit down in the roads of central London."
The protesters are demanding the government to declare a state of "climate emergency" and reforms "to address climate change as an educational priority".
The rallies came after a recent UN report warned that limiting global temperature rises to 1.5 C above pre-industrial levels, beyond which climate impacts become increasingly severe, requires unprecedented action, including cutting global carbon dioxide emissions by almost half within 12 years.
The UN outlined in its report this March that disastrous prospects are inevitable if countries fail to reduce their greenhouse gas emissions, which contribute to global warming.
The growing number of natural disasters and dangers linked to climate change represents "another strong wake-up call" to the world, which must be countered by finding sustainable solutions quickly, UN Secretary-General Antonio Guterres said at the launch of the report.
According to the World Meteorological Organization (WMO), the start of 2019 has seen record warm winter temperatures in Europe, unusual cold in North America, and searing heat waves in Australia.
The extent of ice in the Arctic and Antarctica is yet again well below average, according to the WMO.
The organization also forecast above-average sea surface temperatures, which are expected to lead to above-normal land temperature, particularly in tropical latitudes, through May.