Turkey's air chief hails Pakistan's efforts for peace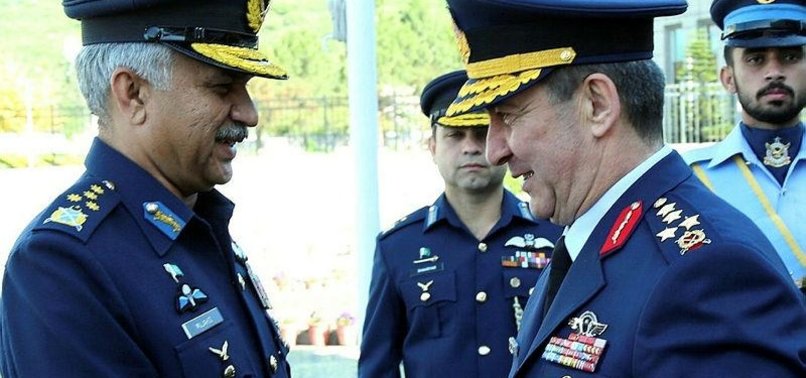 Commander of the Turkish Air Force on Thursday appreciated Pakistan's efforts for regional peace and stressed enhancing cooperation between the air forces of two countries, a statement by the Pakistan Air Force said.
"We fully acknowledge the efforts of Pakistan for regional peace. Great sacrifices of Pakistani nation and through professionalism displayed by its armed forces in eradicating extremism and terrorism from Pakistan and the region are regarded very high by the Turkish nation," said Gen. Hasan Küçükakyüz said at a graduation ceremony at the Pakistan Air Force (PAF) Academy.
Küçükakyüz, who is currently on a visit to Pakistan, was the chief guest of the graduation ceremony.
Appreciating the PAF's professionalism and high training standards, he said: "It (PAF) has upheld the finest traditions of dynamic leadership imbued with courage, professional excellence, integrity and self-respect".
"I am sure, the level of cooperation that exists between the two friendly air forces will enhance our operational capability and interoperability," he added.
"Pakistan and Turkey and our air forces enjoy deep-rooted brotherly relations spanning over decades. We are closely knit together in the strong bonds of Islam, fraternity and cultural communion," said the commander of the Turkish Air Force.
Pakistan Air Force and the Pakistani nation, he went on to say, had always stood shoulder to shoulder by Turkey in the times of crises. "Turkish nation will always stand by Pakistan in every thick and thin," he maintained.
A total of 101 Aviation Cadets -- including 2 Libyan Air Force cadets -- were graduated at the occasion.
Küçükakyüz awarded branch insignias to the graduating officers and also gave away trophies to the distinction holders.
Earlier, upon his arrival at the academy, Küçükakyüz was received by Air Chief Marshal Mujahid Anwar Khan, and Air Vice Marshal Nadeem Sabir.