NZ attacks to be remembered as great tragedy: Envoy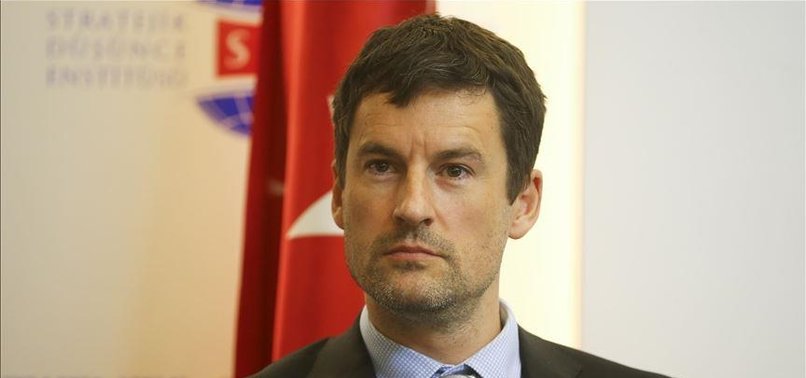 Undersecretary of New Zealand's Embassy in Ankara said Thursday the terrorist attack that killed 50 people will be remembered as a great tragedy in the country's history.
"New Zealand is one of the most multicultural countries in the world," said Tim Breese. "Our diversity is something we value and celebrate, it is who we are."
At a forum organized by Ankara-based Institute of Strategic Thinking (SDE), speakers discussed the terror attack in Christchurch in terms of New Zealand's approach, terrorism, Islamophobia and cyber terrorism.
"This attack strikes against our core values," Breese added.
He said New Zealand was grieving for the last two weeks.
Breese said the Muslim community are friends, colleagues and neighbors of the people of New Zealand.
"We are them and they are us," he quoted Prime Minister Jacinda Ardern's words.
"I would like to thank Vice President Fuat Oktay and Foreign Minister Mevlut Cavusoglu for their visit to New Zealand and also visiting the victims with their family," he said.
Breese was also thankful for the Muslim world and other countries for expressing their gratitude and support.
The head of the Institute of Strategic Thinking (SDE), Muhammet Savas Kafkasyali, said that there were three targets in the attack -- the first New Zealand, the second Muslims and the third Islam.
"New Zealand has managed the crisis in the best possible way, the prime minister has shown a great attitude as a politician," he added.
In this respect, Kafkasyali said New Zealand did not get much damage because of the attitude it took after the attacks.
Selim Argun, deputy head of Turkey's Religious Affairs Directorate, emphasized that religion and security are being mentioned together.
"The increase of religious attacks in recent years is inseparable from religious indoctrination, orientalist view and far rightist ideas," he said.
Argun added New Zealand government's sensitivity to the massacre would not be forgotten.
SDE defense and security coordinator Mithat Isik, said: "All countries should be fighting against terrorism otherwise its inevitable".
At least 50 Muslims were killed and as many injured on March 15 when a terrorist -- identified as Australian-born Brenton Tarrant, 28 -- entered the Al Noor and Linwood mosques in Christchurch and shot worshippers in cold blood, including four children younger than 18.