Scores protest Trump's visit to Pittsburgh after anti-Semitic shooting at synagogue
WORLD
Compiled from wire services
Published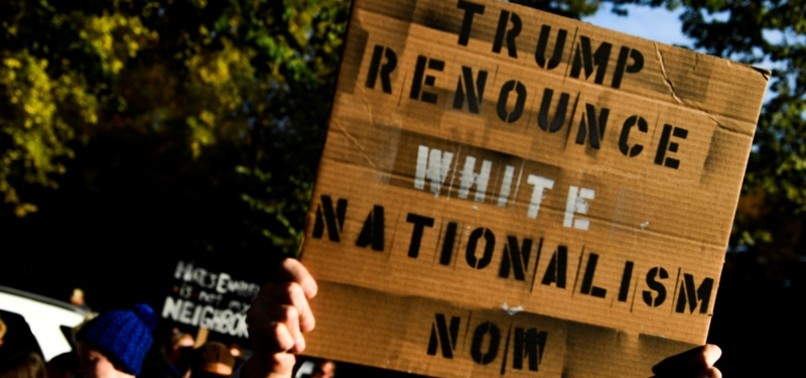 Scores of protesters took to the streets of Pittsburgh on Tuesday to denounce a visit by US President Donald Trump in the wake of a mass shooting at a synagogue that left 11 people dead.
Demonstrators gathered near the Tree of Life synagogue, where the shooting took place, holding signs that read "President Hate, Leave Our State!" and "Trump, Renounce White Nationalism Now."
Trump arrived in the city with his wife Melania to pay his respects to the victims, but some say he has not done enough to squelch hate speech, and in fact fans extremism through his vitriolic tweets.
When Air Force One touched down at the airport outside Pittsburgh, Trump and Melania were not greeted by the usual phalanx of local officials that typically welcomes a visiting president, a reflection of controversy surrounding the visit.
The White House said Trump was coming to "express the support of the American people and to grieve with the Pittsburgh community." But local and religious leaders were divided on whether Trump should be there.
Pittsburgh Mayor Bill Peduto, a Democrat, told reporters before the visit was announced that the White House ought to consult with the families of the victims about their preferences and asked that the president not come during a funeral. Neither he nor Democratic Gov. Tom Wolf planned to appear with Trump.
Those who live in the tight-knit community were uncertain about whether they wanted the presidential visit. To Marianne Novy, Trump wasn't wanted "unless he really changes his ways." For David Dvir, politics should take a pause for grief: "It's our president, and we need to welcome him."
Barry Werber, 76, who said he survived the massacre by hiding in a dark storage closet as the gunman rampaged through the building, said he hoped Trump wouldn't visit, noting that the president has embraced the politically fraught label of "nationalist." Werber said the Nazis were nationalists.
"It's part of his program to instigate his base," Werber said, and "bigots are coming out of the woodwork."
Novy, 73, a retired college English professor, said she signed an open letter asking Trump not to come to Pittsburgh. "His language has encouraged hatred and fear of immigrants, which is part of the reason why these people were killed," she said.
Just minutes before the synagogue attack, the shooter apparently used social media to rage against HIAS, a Jewish organization that resettles refugees under contract with the U.S. government.