President Erdoğan describes crash of lira as 'political plot' against Turkey
WORLD
Agencies and A News
Published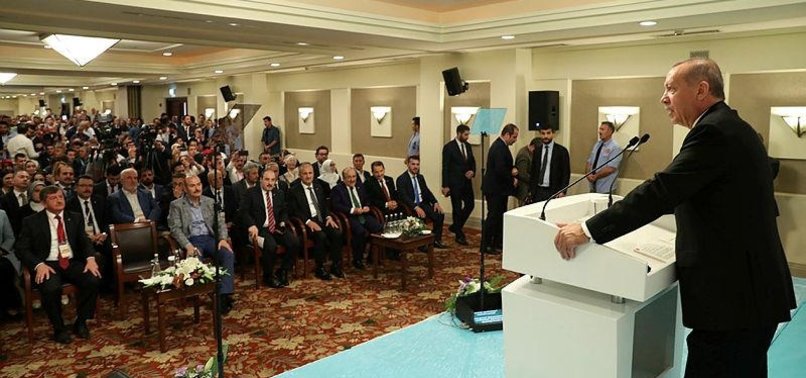 Speaking during a meeting in Turkish province of Trabzon on Sunday, President Recep Tayyip Erdoğan made statements over the political row between Ankara and Washington, and saying in his speech that the crash of lira was a 'political plot' against Turkey. As a political move against the Trump administration's sanctions on Turkey due to the Pastor Brunson Case, he also added: "Turkey will seek 'new markets and allies' after currency crash."
Turkish President Recep Tayyip Erdoğan on Sunday slammed the crash of the lira amid a widening spat with the United States as a "political plot" and said his country would instead seek new markets and new allies.

Erdoğan said the current level of the lira and fluctuations in the exchange rate could not be explained by logic, and its recent plunge showed a plot against Turkey.

"The aim of the operation is to make Turkey surrender in all areas from finance to politics. We are once again facing a political, underhand plot. With God's permission we will overcome this," Erdoğan told his party members in the Black Sea city of Trabzon.

Turkish president repeated his call to Turks - for the third day in a row - to sell euros and dollars to shore up lira.

"If the United States sacrifice its relations with Turkey, we will response to the person -- who declares war against the whole world including our country -- by seeking new markets, new partnerships and new allies," Erdoğan said in a statement.
"If you pressure us through the dollar, we will look for other ways to carry out our works," he said.
Terming the recent U.S. tariffs on Turkey as an "economic war," the Turkish president said: "We've seen your game and we will challenge it."
"We will continue producing. We will continue increasing our exports," he said.

"U.S. SET DEADLINE FOR PASTOR'S RELEASE"
The United States gave Turkey a deadline until last Wednesday, Erdoğan said on Sunday, to release an American pastor being tried by a Turkish court.
The case of Andrew Brunson, an evangelical Christian, is one of a series of disputes that lies at the heart of deteriorating ties between the two NATO allies.
Erdoğan revealed details of negotiations held last week between the two countries, saying Washington had threatened sanctions if Turkey refused to release the pastor.
A Turkish court has transferred Brunson to house arrest after almost 20 months in jail. Frustrated with his continuing detention, Washington sanctioned two Turkish ministers and then doubled tariffs on Turkish steel and aluminium imports.