Turkish army chief vows to fight against terror groups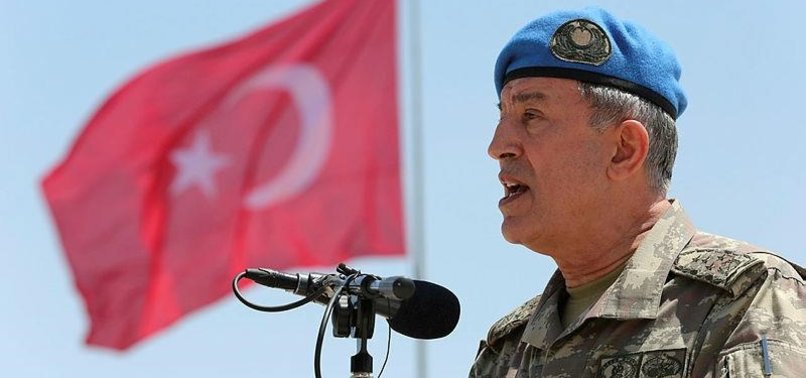 Turkey's army chief on Thursday vowed to continue the fight against terror groups.
"We continue fighting against all kinds of threats and terror organizations especially FETO, [and] PKK/PYD/YPG and Daesh with determination," Chief of General Staff Gen. Hulusi Akar said during a graduation ceremony at the Mountain Commando School in the southwestern province of Isparta.
"Our fight against terrorism will continue uninterrupted in the country and beyond the borders until the last terrorist is destroyed," Akar added.
The army chief was accompanied by commanders of the Turkish Land, Air and Naval Forces, Gens. Yaşar Guler and Hasan Küçükakyüz, and Adm. Adnan Özbal.
Turkey has launched anti-terror operations in both Qandil and Sinjar regions in northern Iraq, President Recep Tayyip Erdoğan said on Monday.
On Jan. 20, Turkey launched Operation Olive Branch to remove YPG/PKK and Daesh terrorists from northwestern Syria's Afrin region. On March 18, Day 58 of the operation, Turkish troops, and Free Syrian Army members liberated the town of Afrin.
The PKK -- listed as a terrorist organization by Turkey, the U.S. and the EU -- resumed its armed campaign against Turkey in July 2015.
Since then, it has been responsible for the deaths of more than 1,200 Turkish security personnel and civilians, including a number of women and children.
FETO and its U.S.-based leader Fetullah Gülen orchestrated Turkey's defeated coup on July 15, 2016, which left 250 people martyred and nearly 2,200 injured.