PYD/PKK supporters in New York misrepresent image to smear Turkey's ongoing Afrin operation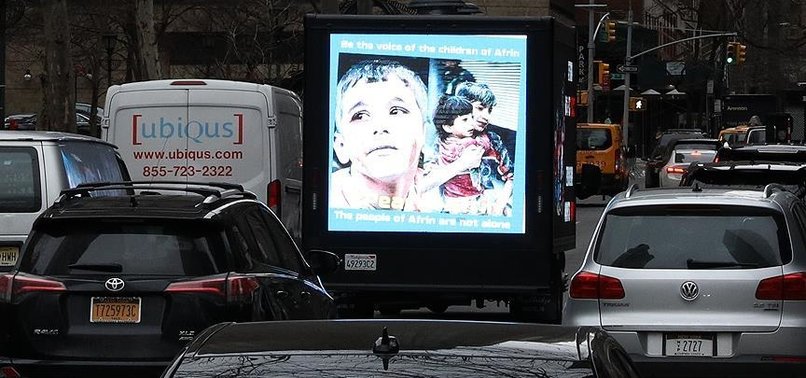 During a rally organized by the terror group supporters in front of the UN building in New York, the PYD/PKK sympathizers misrepresented an image to defame Turkey's ongoing Afrin operation dubbed "Olive Branch" in Syria's northern region.
Sympathizers of PYD/PKK terrorists are using the photos of children from Aleppo on an ad truck in the U.S. as part of a smear campaign against Turkey's counterterrorist operation in Afrin, northwestern Syria.
In a PKK support rally in front of the UN building in New York on Monday, PYD/PKK supporters used photos of injured children taken at different times and places trying to smear Operation Olive Branch of the Turkish Armed Forces and Free Syrian Army, which aims to clear Afrin of terrorists.
On the ad truck, a collage asserts: "On the 50th day of the war, Turkish forces are two kilometers away from the city. The civilians are in danger."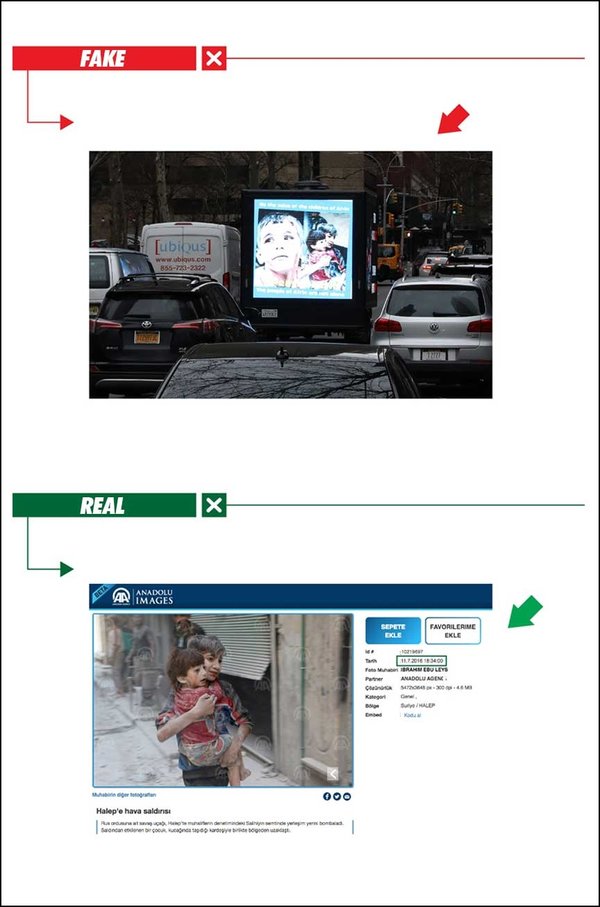 But the billboard shows two photos taken by Anadolu Agency in Aleppo, one-on the right-showing two brothers running from a Russian airstrike in July, 2016, the other-on the left-showing an injured child running from a Russian airstrike in October 2016.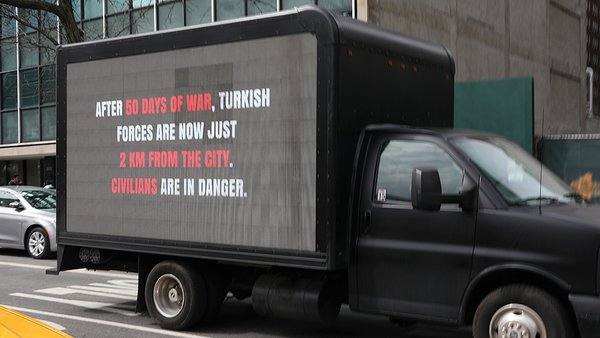 The terror groups have been spreading lies to convince the international community that Operation Olive Branch also targets civilians in Afrin, which is not the case.
On the contrary, the Turkish military has stressed that only terror targets are being destroyed and that "utmost care" is being taken to avoid harming civilians.
On Jan. 20, Turkey launched Operation Olive Branch to clear YPG/PKK-Daesh terrorists from Afrin.
According to the Turkish General Staff, the operation aims to establish security and stability along Turkey's borders and the region as well as to protect Syrians from terrorist oppression and cruelty.
The operation is being carried out under the framework of Turkey's rights based on international law, UN Security Council resolutions, its self-defense rights under the UN charter, and respect for Syria's territorial integrity, it said.