New German coalition deal signed, paving way for Merkel's 4th term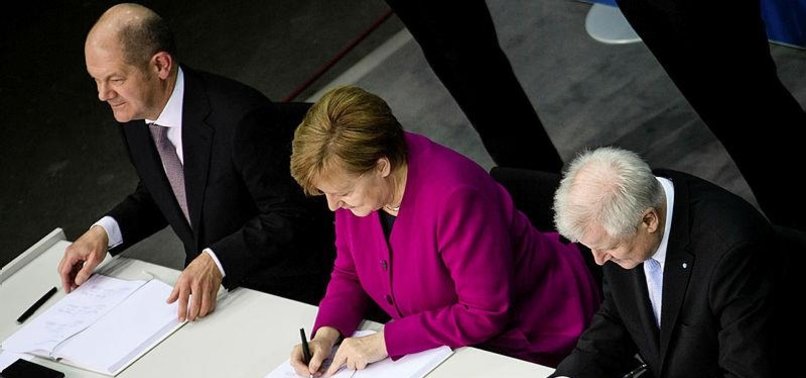 The parties forming the new German coalition have formally signed the document outlining their plans for government, putting an end to six months of political deadlock in Europe's biggest economy.
The party and parliamentary faction leaders of Chancellor Angela Merkel's Christian Democratic Union (CDU), its allied Christian Social Union (CSU) and the Social Democratic Party (SPD) signed the document on Monday.
Merkel, the leader of the CDU, Horst Seehofer of its CSU sister party and acting SPD leader Olaf Scholz signed the 177-page document in the Bundestag complex in Berlin.
The chairs and general secretaries of the three parties also signed the document in the Paul Loebe Building.
Merkel said she is "optimistic" about her new coalition government, which is due to be sworn in this week. This will be her fourth term as chancellor.
"A great amount of work lies before us," Merkel said at a press conference ahead of the signing ceremony. "I am optimistic that it will be a success."
She noted that new challenges face the incoming government, such as US President Donald Trump's recently announced tariffs on steel and aluminium.
Scholz, who is set to take on the role of finance minister and vice chancellor, said that the new coalition had a solid foundation despite the length of time it took to form it.
Both the CDU and the SPD suffered historic losses in September's elections.
The so-called grand coalition "did not start off as a love match," Scholz said, adding that the conservatives and SPD are "entirely different parties" after all, but the parties are "nonetheless able to work constructively with each other and govern properly."
Scholz said his party would work for social justice in Germany "step by step and day by day."
Seehofer said that Germans wanted the coalition to get down to work quickly and start implementing the deal.
"It is a coalition agreement for ordinary people," said Seehofer, who is set to take on a newly expanded Interior Ministry.
German President Frank-Walter Steinmeier expressed his relief that the new government had been formed. "I am happy that the period of insecurity and uncertainty is passing," he said in the city of Dusseldorf. "Impatience was growing in the past few weeks during the negotiations and [SPD] poll period."
The path was finally cleared for Chancellor Angela Merkel to revive the coalition after SPD members voted to approve the deal two weeks ago.
A CDU/CSU-SPD grand coalition has ruled Germany since 2013, but when all three parties lost support in September's general election, the SPD initially said it would go into opposition and regroup.
Merkel's failed attempt to form a coalition with the free-market liberal FDP and environmentalist Greens persuaded the SPD to go back on its word.
Lawmakers are due to vote Merkel back in as chancellor on Wednesday, when she and her cabinet are also due to be sworn in.