Myanmar army 'militarizing' burnt Rohingya villages - report
WORLD
Anadolu Agency & AFP
Published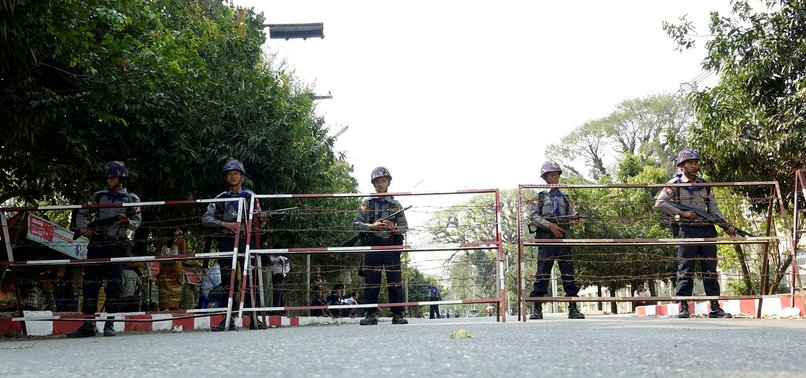 Myanmar's military is building installations on land in villages that had been occupied by Muslim Rohingya who fled to neighboring Bangladesh after their homes were burned down in what analysts charge was a campaign of ethnic cleansing by the authorities, Amnesty International said Monday.
Myanmar is building security installations on top of razed Rohingya villages, Amnesty International said Monday, casting doubt on plans to repatriate hundreds of thousands of refugees.
Nearly 700,000 Rohingya Muslims have fled northern Rakhine state to Bangladesh since Myanmar launched a brutal crackdown on insurgents six months ago that the US and UN have called ethnic cleansing.
Myanmar rejects that term, saying it was responding to attacks by the Arakan Rohingya Salvation Army in late August.
But critics accuse the military of using the insurgent attacks to launch disproportionate, scorched-earth "clearance operations" as a pretext to push out the loathed minority.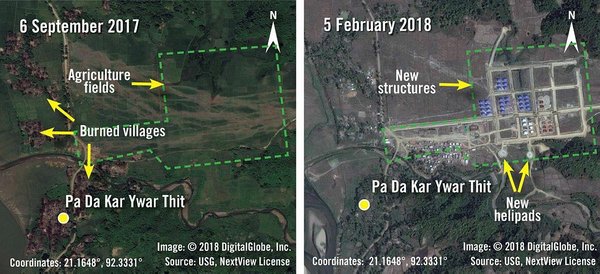 The new Amnesty report, "Remaking Rakhine State", uses satellite imagery and interviews to point to a rapid increase in military infrastructure and other construction since the start of the year that researchers say amounts to a "land grab".
"The new evidence and the rebuilding that Amnesty has documented in our latest research shows that the Myanmar authorities are building over the top of the very places the Rohingya need to return to," Tirana Hassan, Amnesty's crisis response director, told AFP ahead of the report's release on Monday.
"In some instances there has been the destruction of existing homes."
Though admitting the images only paint a partial picture, the rights group says structures for security forces, helipads and even roads have been built in and around torched Rohingya properties.
Satellite imagery of one village called Kan Kya on the outskirts of Rakhine's Maungdaw town taken two months after the August attacks shows a settlement scarred by fire.
But by early March buildings could be seen on the revamped land. Amnesty believes they are part of a new base for security forces.
Similar building activity was also detected in Inn Din village, where Myanmar has admitted that its security forces took part in the killings of 10 Rohingya residents in September.
Rakhine state has been largely sealed off from rights groups, the media and UN investigators.
Myanmar and Bangladesh were supposed to start repatriating Rohingya refugees in late January but many are reluctant to return to a place without guarantees of basic rights and safety.
The report also highlights concerns that abandoned Rohingya land will be set aside for ethnic Rakhine Buddhists and other non-Muslim groups in the area, and that alterations to the landscape will erase evidence of alleged atrocities by the military.
Zaw Htay, a government spokesman, rejected the claims, and said the government was not basing military forces in residential areas but that police stations were part of village construction plans.
"It's not true that we are deploying the military among houses and among villages," he said, adding that bulldozing is necessary to work on burned land. "As this region is behind in development, we are rebuilding systematically."
- MOSQUES DESTROYED
Amnesty International also documented recent examples of looting, deliberate burning and demolition of abandoned Rohingya homes and mosques across northern Rakhine State.
"The authorities have demolished mosques and madrasas during operations to clear burnt villages," Amnesty said in its report.
"During the violence [in August], they burnt down almost all the houses. Since January, they started to bulldoze the mosques, madrasas and big houses which were still intact," a 52-year-old religious leader from Zin Paing Nyar village in northern Maungdaw Township, who took shelter in Bangladesh since early February, was quoted as saying in the report.
Amnesty said this raises serious concerns that authorities were destroying evidence of crimes against the Rohingya, which could hinder future investigations.
"The bulldozing of entire villages is incredibly worrying. Myanmar's authorities are erasing evidence of crimes against humanity, making any future attempts to hold those responsible to account extremely difficult," Hassan added.
Since Aug. 25, 2017, more than 750,000 refugees, mostly children and women, have fled Myanmar and crossed into Bangladesh after Myanmar forces launched a crackdown on the minority Muslim community, according to rights groups.
The refugees are fleeing a military operation in which security forces and Buddhist mobs have killed men, women and children, looted homes, and torched Rohingya villages.
At least 9,000 Rohingya were killed in Rakhine state from Aug. 25 to Sept. 24 last year, according to Doctors Without Borders.
In a report published on Dec. 12, 2017, the humanitarian group said the deaths of 71.7 percent or 6,700 Rohingya were caused by violence. They include 730 children below the age of five.
- MYANMAR YET TO RESPOND
Turkey has been at the forefront of providing aid to Rohingya refugees, and President Recep Tayyip Erdoğan has raised the issue at the UN.
The Rohingya, described by the UN as the world's most persecuted people, have faced heightened fears of attack since dozens were killed in communal violence in 2012.
The UN documented mass gang rapes, killings -- including of infants and young children -- brutal beatings, and disappearances committed by security personnel.
So far, Myanmar authorities have not responded to the latest Amnesty International report.
Myanmar and its Nobel prize winning State Counsellor Aung San Suu Kyi have come under heavy international criticism for disallowing independent rights experts and journalists access to the area to investigate the allegations.
Myanmar has repeatedly denied the accusations, saying it has been working with Bangladeshi government to bring back thousands of refugees who fled cross-border to escape the brutal military crackdown in Rakhine state.
Earlier this month, Bangladesh and Myanmar finalized an agreement on the physical arrangements for the repatriation of the Rohingya and agreed to send 100,000 refugees to Myanmar in the first phase.
Myanmar said the Rohingya will first be placed in a "temporary camp" under government's control and then settled in a locality.