Merkel says European Union, Turkey dependent on each other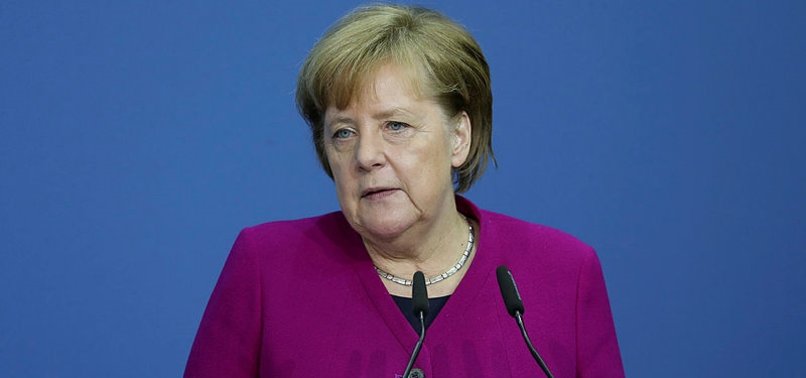 Angela Merkel, during her speech at a press conference in Berlin, emphasized the importance of EU-Turkey relationship by saying: "We cannot hide our differences, but communication channels should remain open. Because we are dependent on each other."
German Chancellor Angela Merkel on Monday voiced support for closer dialogue between the EU and Turkey, despite recent tensions between Ankara and European capitals.
"We cannot hide our differences, but communication channels should remain open. Because we are dependent on each other," Merkel told a press conference in Berlin.
Her remarks came ahead of a key EU-Turkey summit set for March 26 in Varna, Bulgaria -- the current EU term president -- bringing together EU leaders and Turkish President Recep Tayyip Erdoğan .
The German chancellor praised Turkey's efforts for more than three million refugees who fled Syria's civil war.
"Turkey has done a great job for refugees," she said, stressing that the EU remains committed to the refugee agreement with Turkey, including its financial commitments.
Merkel has long been a key supporter of the EU-Turkey agreement clinched in March 2016, which aimed at discouraging irregular migration through the Aegean Sea by establishing stricter measures against human traffickers and improving the conditions of the 3.5 million-plus Syrian refugees in Turkey, more than any other country in the world.
Although the plan has successfully reduced irregular migration flows and gave Merkel domestic political relief, the EU has failed to deliver the promised funding for refugees in Turkey in a timely way.
- NEW COALITION'S TURKEY POLICY
Asked about the new German coalition government's policy on Turkey, Merkel stressed that they will continue talks with their Turkish counterparts, and address issues of disagreement through dialogue.
Pointing to the EU's expectations of Ankara on democracy and human rights, Merkel argued that deepening the EU-Turkey Customs Union -- a longtime goal of Ankara -- would depend on progress in these areas.
"Only through talks, and sometimes through controversial talks, we can move forward," Merkel stressed.
On Monday, Merkel's Christian Democratic bloc (CDU/CSU) and Social Democratic Party (SPD) signed their coalition agreement, after months of negotiations.
In their coalition government contract, Merkel's CDU/CSU bloc and SPD underlined their desire for "good relations" with Turkey.
"Turkey is an important partner of Germany and EU's neighbor, with which we have multifaceted relations. Therefore, having good relations with Turkey is of special interest for us," the document said.
Despite their campaign promise to terminate Turkey's EU membership process, the parties' coalition agreement avoided any such radical proposals.
But they stressed that no new chapter would be opened in Turkey's EU membership talks unless Ankara achieves progress in addressing EU criticisms on issues such as democracy, the rule of law, and human rights.
The coalition document argued that Ankara's expectations for an updated EU-Turkey Customs Union and visa-free travel to Europe would depend on Ankara's steps to meet its obligations.
Germany's new coalition government is expected to take office following a vote at the German parliament on Wednesday.
It will be the third "grand coalition" between the Christian Democrats and Social Democrats since 2005, and will give Merkel a fourth consecutive term as chancellor.