Gazans protest Trump's plan for Jerusalem recognition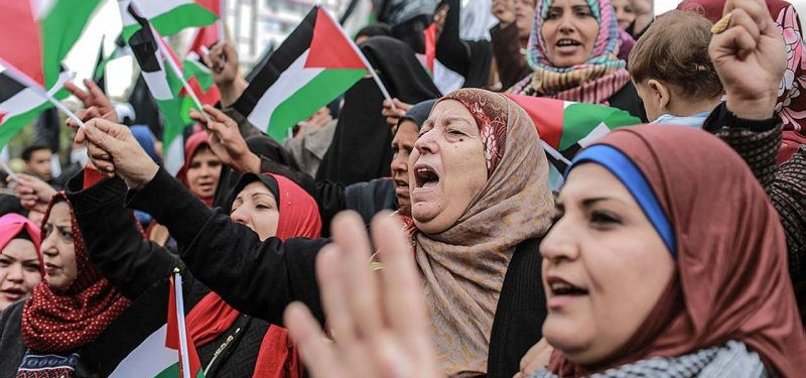 Hundreds of Palestinians demonstrated in the Gaza Strip on Wednesday against U.S. President Donald Trump's plans to officially recognize Jerusalem as Israel's capital.
Demonstrators waved banners condemning President Donald Trump's expected decision on Wednesday to relocate the U.S. Embassy to Jerusalem and recognize the city as Israel's capital.
"The Palestinian people will foil Trump schemes as they did for previous plans," Hamas leader Salah al- Bardawil told participants in the rally.
Emad al-Agha, a leader of Palestinian President Mahmud Abbas' Fatah group, called on Arab states to severe relations with Israel.
"We are here today to reiterate our rejection of U.S. decisions regarding Jerusalem," he said, going on to call on Arab countries to pile pressure on Washington to reverse its plans on the holy city.
He termed the U.S. move as a "total bias to the Israeli occupation".
Louay al-Qariouti, a member of the National and Islamic Forces bloc, called on the Palestinians to "rise up" against U.S. plans regarding Jerusalem.
"We also call on the umbrella Palestine Liberation Organization (PLO) to withdraw its recognition of Israel," he said.
Jerusalem remains at the core of the perennial Israel-Palestine conflict, which Israel occupied the city's east during the Middle East war in 1967.
During his election, Trump promised to relocate the U.S. embassy from Tel Aviv to Jerusalem.
Successive U.S. presidents of both parties have signed a six-month waiver since the Jerusalem Embassy Act was signed into law in 1995, perpetually forestalling the building's legislated move over concerns it could spark a diplomatic crisis and be a death knell to peace talks.