World reacts to Trump of recognizing Jerusalem as Israel capital
MIDDLE EAST
Anadolu Agency
Published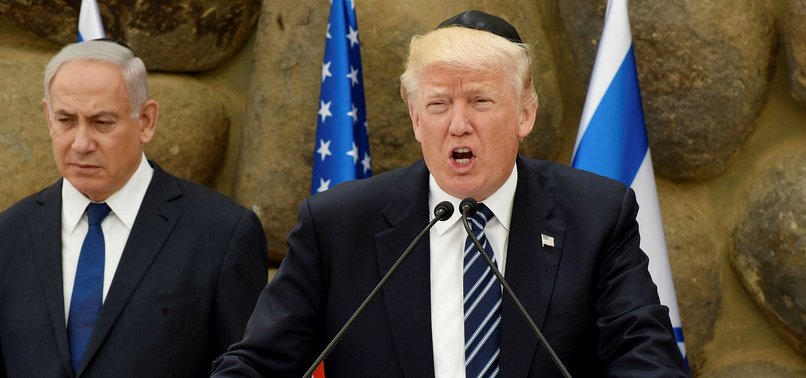 A great number of leaders of countries accross the world have harshly reacted U.S. decision on moving embassy to Jerusalem, and recognizing holy site as Israel's capital.
Reactions from across the globe began pouring in on Wednesday after the U.S. planned recognition of Jerusalem as Israel's capital and relocation of the U.S. Embassy to Jerusalem.
China voiced its concern over the U.S.'s statements about Jerusalem saying the move could spark more tensions.
"All parties should avoid weakening the long-standing solutions for Palestine conflict by causing new divisions," Chinese Foreign Ministry spokesman Geng Shuang said in a news briefing.
Shuang emphasized that Beijing supports an independent Palestinian State with east Jerusalem as its capital.
Pope Francis also urged U.S. President Donald Trump to respect the Jerusalem's status.
Speaking during a weekly address in Vatican, the Pope said: "I cannot keep silent on my deep concern for the situation that has been created in the past days."
The Pope has described Jerusalem as "a unique city, sacred to Jews, Christians, and Muslims".
"I would like to make a heartfelt appeal for everyone's commitment to respect the city's status, in conformity with the pertinent United Nations Resolutions," he said, as quoted by the Vatican Radio, an official broadcaster.
In addition, Russia is among the countries expressing concern about Jerusalem's status.
- 'GRAVE CONCERN'
Kremlin spokesman Dmitry Peskov warned of a "possible complication" if the U.S. recognizes Jerusalem as the capital of Israel.
"The situation is complex," Peskov told reporters.
Pakistan also expressed "grave concern" over the U.S. Embassy shifting reports and termed such steps "a clear violation of UN Security Council's resolutions".
A statement issued by the Prime Minister House stated that such a move would sidestep decades-long global consensus on the issue, undermine regional peace and security as well as derail any prospects for a lasting peace in the Middle East.
The statement called on the United States to refrain from any move that alters the legal and historical status as well as character of Al-Quds Al-Sharif, fully comply with all applicable UN Security Council resolutions.
Trump is expected to formally recognize Jerusalem as Israel's capital on Wednesday and begin preparations to move the U.S. Embassy to the city, three senior administration officials confirmed to Anadolu Agency late Tuesday.
Palestinians, Arab and Muslim countries warn that a unilateral recognition of Jerusalem as Israel's capital would "unleash widespread public anger" and deal a death knee to the peace process.
During his election campaign last year, Trump repeatedly promised to move the U.S. Embassy from Tel Aviv to Jerusalem.
Jerusalem remains at the core of the Israel-Palestine conflict, with Palestinians hoping that East Jerusalem -- currently occupied by Israel -- might eventually serve as the capital of a future Palestinian state.