S-400 technical committee still on table, Turkish presidential spox says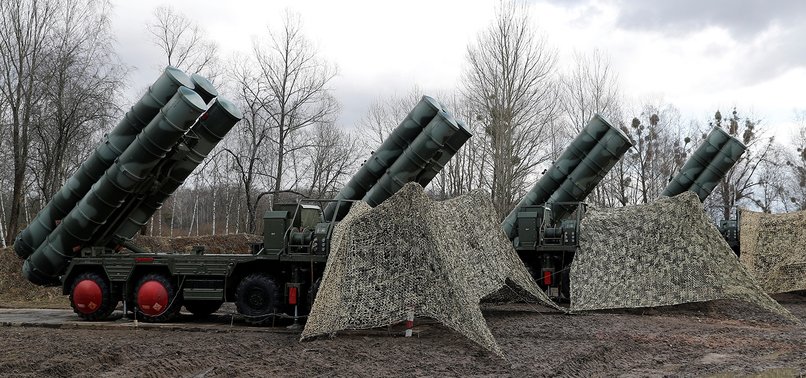 Turkey's proposal to form a committee to examine technical concerns about its procurement of an advanced Russian missile defense system is still under consideration, its presidential spokesman said Tuesday.
"And our proposal to establish this technical committee under the NATO umbrella is still on the table. We are waiting to hear from our U.S. colleagues and from NATO," İbrahim Kalın told reporters at the Turkish embassy. "Because we wouldn't want to have our F-35 program jeopardized in any way by the S-400 or any other system."
Tensions between the U.S. and Turkey have reached a fever pitch in recent months with Turkey set to begin receiving the advanced S-400 Russian surface-to-air missile system that Washington said will jeopardize Turkey's role in the F-35 fighter jet program and which could trigger congressional sanctions.
The U.S. already suspended deliveries of parts and services related to Turkey's receipt of the multi-million dollar fighter jets.
Following protracted efforts to purchase an air defense system from the U.S. with no success, Ankara decided in 2017 to purchase the Russian S-400 system.
U.S. officials advised Turkey to buy the U.S. Patriot missile system rather than the S-400s from Moscow, arguing that the Russian system would be incompatible with NATO systems and expose the F-35 to possible Russian subterfuge.
Turkey, however, has emphasized that the S-400 would not be integrated into NATO systems and would not pose a threat to the alliance.
Kalın stressed that Turkish experts have said the S-400 would not "jeopardize" the F-35, reiterating that Ankara wants to remain part of the F-35 program.
In addition to facing possible expulsion from the F-35 program by the U.S., Turkey is also likely to face sanctions under a 2017 sanctions law should it take delivery of the S-400 system.
Should that happen, Kalın said, Turkey expects President Donald Trump to issue a waiver to exempt Ankara from any economic penalties.
Likewise, Kalın said, Turkey expects the Trump administration to extend an existing sanctions waiver that is set to expire at the end of May to allow Turkey to continue importing Iranian oil.
The Trump administration reimposed oil sanctions on Iran in November following Trump's decision to unilaterally pull the U.S. out of a landmark 2015 nuclear pact that world powers struck with Iran.
"We are expecting an extension for Turkey," Kalın said. "We have conveyed this message to our U.S. colleagues."
Turkey is one of seven countries, in addition to Taiwan, that were granted waivers when the penalties were reimposed, but those are set to expire May 2.
The Trump administration has not signaled one way or another on whether those exemptions will be extended.
Turning to a safe zone being mulled for northeastern Syria, Kalın said the U.S. and Turkey "are making progress," noting "positive signals" being received from Washington on the matter, but stressed the U.S. needs to end its support to the YPG, the Syrian affiliate of the PKK -- a designated terror group in the U.S. and Turkey.
"The U.S. needs to have a change of course there because we don't need the PYD/YPG to establish peace and security in any part of Syria," Kalın said, using a name for the group that includes its political wing.
Citing the defeat of the Daesh terror group, Kalın said "there is no reason to continue military support, training support or financial support for the PYD/YPG".
"We do not want to see Daesh come back in any form or shape. Let's be clear about that. And we are ready to give them a big fight wherever they show up," he said.