Istanbul Airport's first commercial flight takes off for Ankara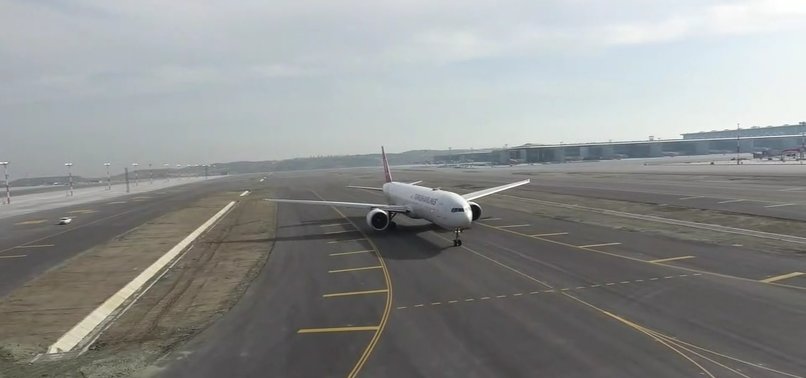 Turkey's flag carrier Turkish Airlines' first flight from new Istanbul Airport departed on Wednesday for the capital Ankara.
The first commercial flight from the new Istanbul Airport took off at 11:30 a.m. on Wednesday carrying 340 passengers to Ankara.
The Turkish Airlines (THY) flight TK2124's Boeing 777 wide-body aircraft will be flying to Esenboğa International Airport in the capital.
The first commercial flight into the Istanbul airport will take off at 2:15 p.m. from Ankara.
Passengers arrived early Wednesday at the Istanbul airport for their flight.
"I am very happy to be on the first flight from Istanbul Airport," Ismail Arat, who lives in Ankara, said.
German citizen Tino Delker told reporters he was excited to be one of the first passengers.
"The design of the airport is really nice, that caught my attention. Most things are modern and brand new," he said.
Istanbul Airport is a key investment for the future of tourism in Istanbul, Culture and Tourism Minister Mehmet Ersoy said Wednesday before take-off.
Flights from western European, Russian-speaking, and Mideast countries to Antalya, Dalaman, Bodrum and Izmir on Turkey's Aegean and Mediterranean coasts will begin in April 2019, he added.
President Recep Tayyip Erdoğan inaugurated the new aviation hub on Monday, the 95th anniversary of the Turkish Republic.
The third in the city, Istanbul Airport will replace Atatürk International Airport as the main flight hub in the country's most populated city.
The project, built by a consortium of five contractors – Limak, Kolin, Cengiz, Mapa and Kalyouses – uses a build-operate-transfer (BOT) model that will provide over 26 billion euros ($30.65 billion) of revenue to the government.
Spread over an area of over 76 million square meters, the first phase of the airport will serve 90 million passengers. The total cost of the first phase is about 6 billion euros.
More than 10,000 people have been working on its construction. In addition, over 250 Turkish and foreign architects and more than 500 engineers are participating in the construction.ny.
With the remaining phases to be completed by 2023, the airport is to host six separate runways with a capacity of 500 aircraft and an annual capacity of 200 million passengers.
It will be home to the world's largest duty-free shopping complex, at 53,000-square-meters, consisting of six sections, including luxury stores and bazaar concept shopping.
The airport's maiden voyage will be to the capital Ankara on Oct. 31, with the first international flight to the Turkish Republic of Northern Cyprus the following day.
By the end of the year, 2,000 planes are expected to transit through the airport every day to over 350 destinations by over 250 carriers.