Israel's massacre in Gaza reaches Cannes red carpet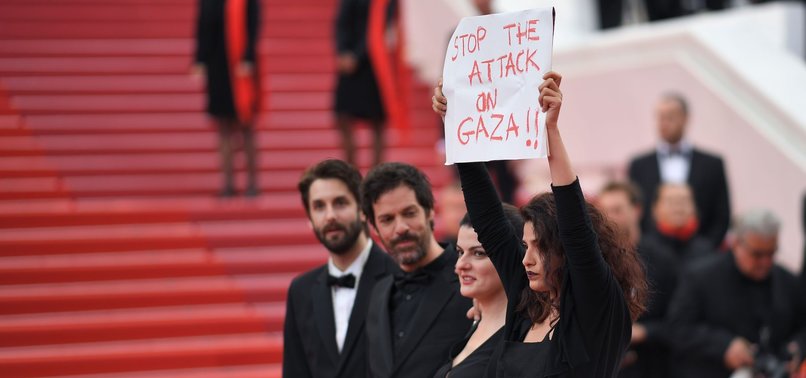 French-Lebanese actress Manal Issa reacted to Israel's violence and the death of 60 Palestinians in Gaza Strip by holding a sign reading "Stop the Attack on Gaza" as she arrived at Cannes Film Festival on Tuesday.
Amid the glamour and stardom of Cannes, one Lebanese actress brought a stark reminder to the red carpet, hoisting a simple white sign that read: Stop Attack on Gaza.
Dressed in a matte black dress, Manal Issa held up her sign Tuesday as she walked down the red carpet ahead of the premier of the new movie Solo: A Star Wars Story.
Israeli forces killed 60 Palestinians on Monday with live fire and tear gas on the Gaza border, according to the Palestinian Health Ministry, making it the bloodiest day in Palestine since 2014.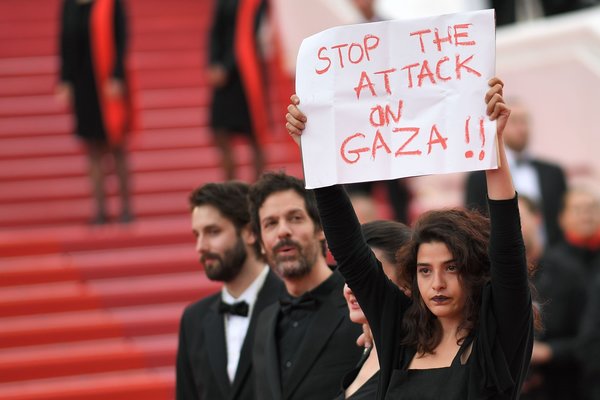 Dozens of other Cannes attendees protested the violence, standing in a large circle holding hands outside the Palestine pavilion. This is the first year Palestine has had its own pavilion at the event.
"It's really crazy to be here with the films, with the filmmakers, talking about our future plans while our kids and families are suffering from the Israeli attack on them," Palestinian film producer and director May Odeh told Reuters.
This year's Cannes Film Festival has already been one of the most political in several years, with female stars protesting against industry sexism, several directors barred from attending and bans hanging over some movies.