Assad regime forces kill 400 in Syria's Eastern Ghouta, Idlib
MIDDLE EAST
Agencies and A News
Published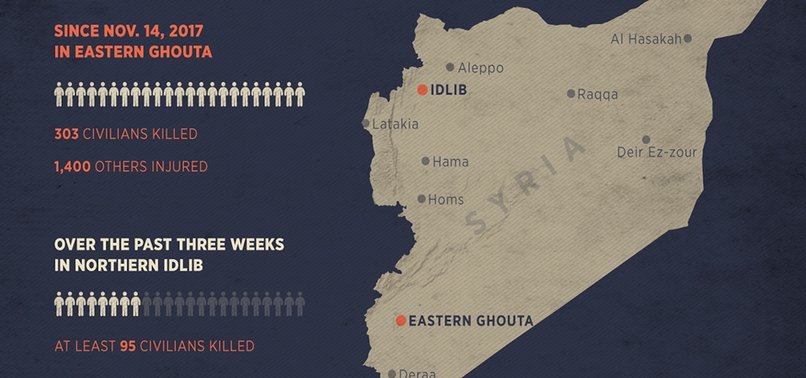 At least 400 civilians were killed over the past two months as regime forces intensified attacks on Syria's besieged Eastern Ghouta district and the northern province of Idlib, according to the Syrian group, White Helmets.
Since Nov. 14 last year, Eastern Ghouta, a suburb of Damascus, which is a part of a de-escalation zone, has remained the target of fierce attacks by Bashar al-Assad regime.
Despite the cease-fire, heavy bombardment hit Duma, Haresta, Hammuria, Marj, Arbin, Saqba, Misraba, Madyara, Zamalka, Cisrin, Ain Tarma and Beit Sawa towns of Eastern Ghouta, according to Anadolu Agency reporter in the region.
At least 303 civilians, including five civil defense forces, were killed and more than 1,400 others were injured in the district since Nov. 14 last year, White Helmets said, adding that 161 of them were killed in the past two weeks in the district when Russia started giving air support to the regime forces.
Under siege by the regime since late 2012, Eastern Ghouta falls within a network of de-escalation zones -- endorsed by Turkey, Russia, and Iran -- in which acts of aggression are expressly prohibited.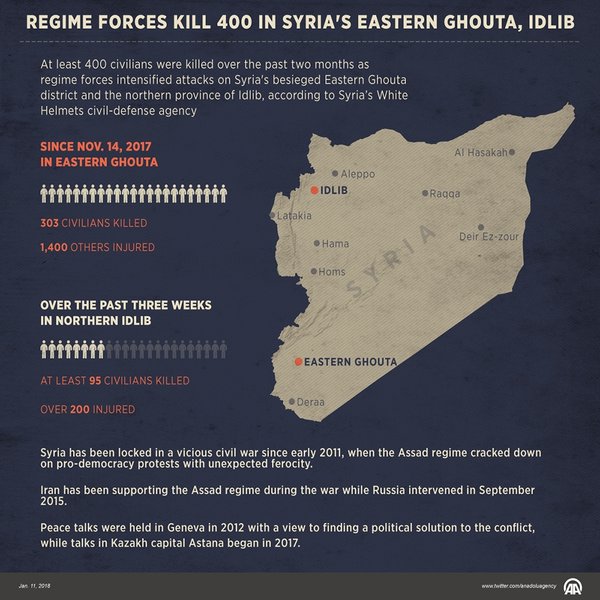 95 killed in Idlib
Syria's northern Idlib province has also been considered de-escalation areas brokered in May 2017 under the Astana process by Russia, Turkey and Iran, with the aim to put an end to violence and improve the humanitarian situation.
Attacks by regime forces backed by Russia killed at least 95 civilians and injured over 200 others in northern Idlib province over the past three weeks, a White Helmets source said.
Khan Sheikhoun, Saraqib, Kafr Sajna, Kafranbel, Maarrat al Numan and al-Tamania have all been targeted by regime forces.
Al-Assad forces, meanwhile, continue to advance towards Idlib's southern countryside including Abu al-Duhur military airport after controlling the town of Sinjar.
Fierce fighting between Iran-backed groups and anti-regime forces have also been reported in the southern countryside of the province.
Syria has been locked in a vicious civil war since early 2011, when the Assad regime cracked down on pro-democracy protests with unexpected ferocity. This led to a military conflict between the Syrian opposition groups and the Assad regime over the war-torn country's territory.
Iran has been supporting the Assad regime during the war while Russia intervened in September 2015. Peace talks were launched in Geneva in 2012 aiming to find a political solution for the conflict while Astana talks began in 2017 discussing cease-fire that has been fragile so far.
Hundreds of thousands of civilians have been killed in the conflict mainly by regime airstrikes targeting opposition-held areas while millions more were displaced. During the conflict, Assad regime was accused many times by many international actors of targeting Syrian civilians by chemical weapons.