Turkish scientists analyze coldest region on earth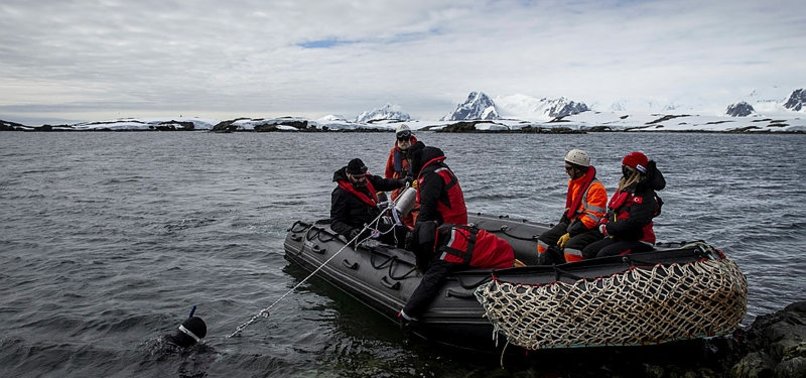 Turkish scientists from a range of fields -- including biology, the marine sciences, polar biodiversity and ecology -- are conducting extensive studies in Antarctica.
Within the context of ongoing research projects on the world's coldest continent, scientists have collected numerous samples of local flora and fauna.
"These samples will eventually be taken back to Turkey for analysis," Ersan Başar, a marine scientist from Trabzon's Karadeniz Technical University, told Anadolu Agency.
"Any findings that these samples yield will contribute to our ongoing scientific research," he said.
In 2015, Istanbul Technical University (ITU) established the Polar Research Center with the aim of conducting research and raising Turkey's scientific profile.
The scientists are studying Antarctica's ecosystem as part of Turkey's Third National Antarctic Science Expedition, which enjoys the support of the Turkish Presidency, the Industry and Technology Ministry, the ITU's Polar Research Center, and eight other Turkish universities.
A team of Anadolu Agency correspondents is closely covering the team's progress in Antarctica.
Setting out from Antarctica's King George Island and passing through the Strait of Gerlache and the Lemaire Canal, the Turkish team eventually arrived at Horseshoe Island, where they set up a research camp.
Research projects are now underway at the camp by eight Turkish universities, including İTÜ, Karadeniz Technical University, Middle East Technical University, Niğde Ömer Halisdemir University, Hitit University, Bahçeşehir University, Boğaziçi University, Ondokuz Mayıs University and Istanbul University.
In April 2016, the first-ever Turkish team of researchers -- including doctors, botanists, geologists and oceanographers -- traveled to Antarctica to study the impact of "climate change".
The coldest continent on earth, Antarctica has served as a scientific research zone since the signing of a 1959 treaty.
Turkey currently holds "observer" status among treaty signatories, but hopes to see this eventually raised to "consultative" status.
Project participants must contend with exceptionally harsh weather conditions.
The lowest temperature ever recorded in Antarctica, in 1983, was -89 degrees Celsius (-128 Fahrenheit). In summer, however, temperatures can climb as high as -15 degrees Celsius (5 Fahrenheit).