Turkey's miracle hot springs heal ailments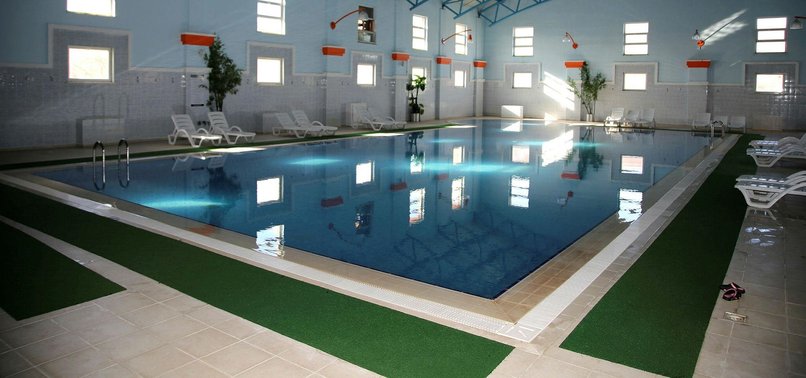 The medical miracles of hot water springs in central Turkey heal dozens every day, locals say.
The springs in Kozaklı district of Nevşehir province, located at an hour's drive from Cappadocia, have treated rheumatism, muscle and joint pain and even psychological disorders, according to folklore.
"People who come on a stretcher leave on foot," district mayor Celalettin Güven told Anadolu Agency.
"[Kozakli] is where patients benefit the most from the hot springs," he added.
The 93-Celsius degree water has sodium, calcium and chlorine reserves. It also contains radon gas which has therapeutic properties.
Locals call the springs 'youth elixir' due to their healing powers.
The district with an estimated population of 7,500, hosts a number of motels, apartments and five-star hotels which can accommodate up to 10,000 people.
Cumhur Ünal, chairman of Kozaklı Thermal Tourism Association, said prices in the facilities range from 25 to 120 Turkish liras ($6.5 and $32) per person.
He added that the occupancy rates are usually high in the facilities while the summer period, the semester break and all weekends saw full occupancy last year.
Ünal said they provide day-long trips to the nearby Kayseri ski resort and Cappadocia, which is famous for its fairy chimneys and caves.
Mud baths, salt rooms, beauty salons, sports centers and aqua parks are offered to the visitors.
"Our guests who come to our district benefit from both thermal facilities and sports, and if they want to go out of the hotel, they can walk on the hiking trails and have a pleasant rest," the mayor added.
Kozaklı seeks to become a leading health tourism center in the country. Its location, 68 kilometers (42 miles) north of Cappadocia and 116 km (72 miles) northwest of the Erciyes Ski Resorts in Kayseri, gives it an edge.