Central Bank head failed to perform his duties, Erdoğan says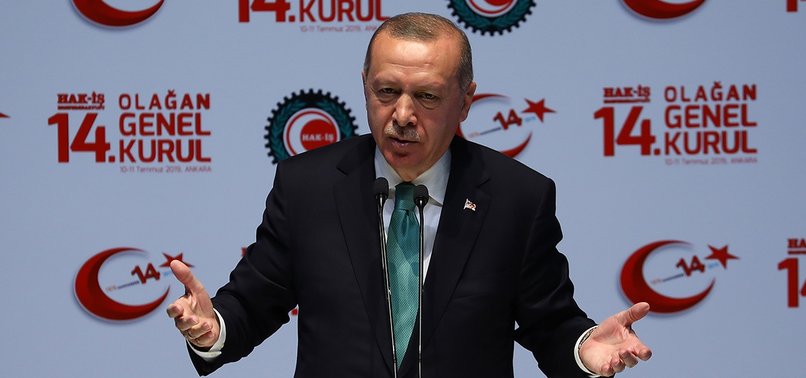 Turkish President Erdoğan on Wednesday said the country's Central Bank governor was recently dismissed due to his failure to carry out his duties.
Recep Tayyip Erdoğan's remarks came at a union gathering organization held in Ankara.
"Had the Central Bank properly played its role in economic policy as expected, this removal would not have happened," Erdoğan said.
Erdoğan also said that the "interest rate is the mother of inflation", adding his government had decreased that interest rate from 63% to 4.6% and inflation reduced from 30% to 7%.
"Seeing this, the West intervened quickly with the Gezi events. Remember, with the Gezi events, the interest rate suddenly started to rise to double digits and inflation rose to double digits too," he said.
In summer of 2013, relatively small demonstrations in Istanbul's Gezi Park grew into a nationwide wave of protests against the government that left eight protesters and a police officer dead.
The government later said the protests were an attempt to overthrow it by Fetullah Terrorist Organization (FETO) members who infiltrated the police and court system.
"If the Central Bank had been able to play its role properly, this change would not have been necessary. But, there is a congestion and we pay the price for it," he added.
In the new presidential system, Erdoğan said the task of appointing the head of the Central Bank was left to the country's president, who is responsible for the economic policy along with other policies of the country.
"Blatantly putting this burden to people of our country would mean I am neglecting my duty as a President. We made the necessary consultations for this, made our decision and implemented it. I hope the Central Bank will support our economic program from now on," he added.
Early last Saturday, Murat Cetinkaya was dismissed from his post as Central Bank governor via presidential decree, to be replaced by his deputy Murat Uysal.
The move was defended by the ruling Justice and Development (AK) Party on the grounds that it was "within the rights entitled to the president."
Opposition circles have claimed that Erdoğan removed Cetinkaya due to his failure to cut interest rates.