Over 1M sign petition seeking justice for murdered black man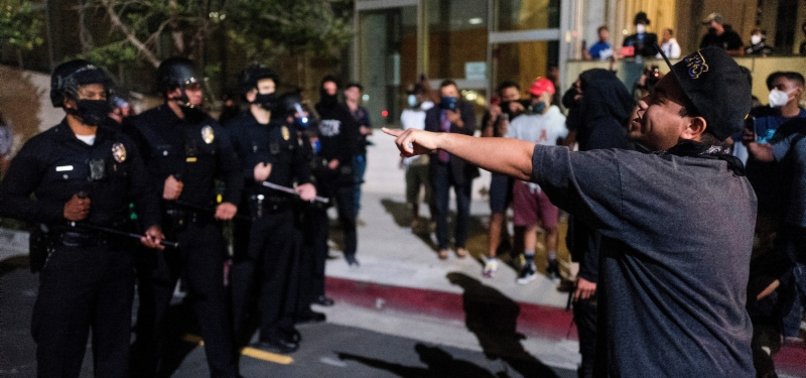 Calls mounted Wednesday for the arrest of a Minneapolis policeman for killing a handcuffed black man by kneeling on his neck, amid outrage over the latest African American death at the hands of US law enforcement. A day after angry protests in the northern US city were met with tear gas and rubber bullets, the family of George Floyd demanded the four white policemen involved in his death Monday be charged with murder.
More than 1 million people have signed a petition seeking justice for an unarmed, handcuffed black man killed by four police officers during an arrest in the state of Minnesota.
As of Thursday, nearly 1,1M people signed a change.org petition, Justice for George Floyd, demanding the fired officers face charges and convictions.
The campaign has already reached more than two-thirds of its goal of 1.5 million signatures.
"We are trying to reach the attention of Mayor Jacob Frey and DA [District Attorney] Mike Freeman to beg to have the officers involved in this disgusting situation fired and for charges to be filed immediately," a part of the petition read.
Floyd's death elicited rage and thousands have flooded to streets of Minneapolis to voice that black lives matter.
Mayor Jacob Frey announced Tuesday the four officers have been fired.
Video of Floyd's arrest captured by a bystander and posted on Facebook appeared to show the victim pinned to the ground, repeatedly pleading "I can't breathe" for nearly four minutes as an officer holds his neck to the ground with his knee. He appeared to be in handcuffs in the video footage.
Floyd appeared to lose consciousness, but the officer maintained his position on the victim.
His pulse was checked about three minutes after he stopped gasping for air while the officer continued to press his knee on Floyd's neck, but it is unclear from the video what the assessment was at that point. He is then loaded on to a stretcher and moved into an ambulance.
He did not appear to be conscious.
Floyd's family also said Tuesday that they want the police officers charged with murder.